The passage of the seasons is marked by a gardening kaleidoscope of colour at Bebeah in the NSW Blue Mountains.
With the 20/20 vision of hindsight, Barry Byrne says buying property at Mount Wilson was probably the worst business decision he has ever made. "In 1992 I could have bought an inner-Sydney house for $300,000," he says. "Today it would be worth millions, or multi-millions if I'd been a developer and put a skyscraper on it. But instead I bought Bebeah. A town house may not have given me as much pleasure, but it certainly would have left me richer."
He is referring to the home he shares with partner Miguel Alvarez, a Gothic-influenced Victorian retreat on 12 acres (five hectares) at Mount Wilson. The house is one of the original cluster of summer retreats in the heritage garden village, located just over two and half hours drive from Sydney, but light years removed in pace of life.
Bebeah, which is thought to be an Aboriginal word meaning a place where stone axes are found, was built for NSW parliamentarian Edward King Cox, a descendant of William Cox, the man who supervised the construction of the first road across the Blue Mountains in 1815. In 1878 Cox bought 30 acres (12 hectares) at Mount Wilson and construction of the homestead to a design by architect Ambrose Thornley Jnr began two years later.
The original specimen trees — oaks, magnolias, elms, conifers and even two dogwoods that are believed to be the first of their variety planted in Australia — date from these early days. In 1902 the Sloan family, who had considerable land holdings in the Cowra and Canowindra districts of NSW, bought the property. It remained in their hands until the death of their youngest daughter, Marjorie, in 1984.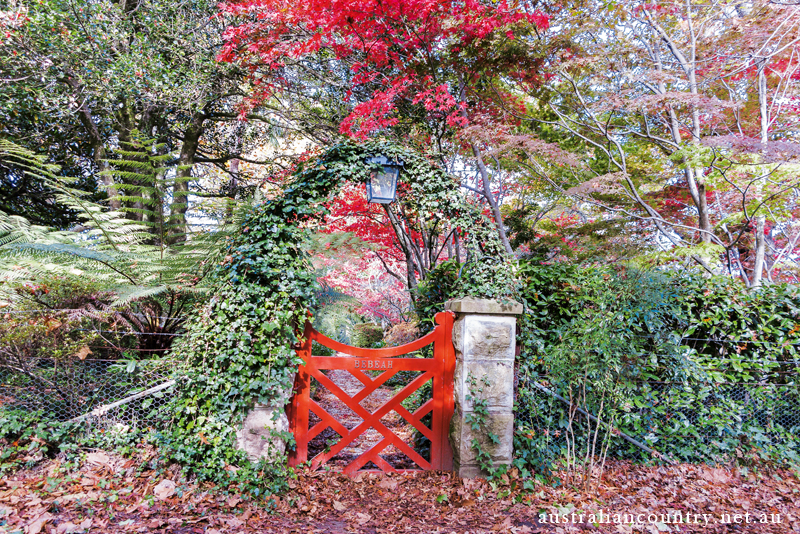 Miss Sloan was a great benefactor of the village and her name lives on the Sloan Reserve which she gave to the community in the 1960s. Michael Valder, who grew up at nearby Nooroo, recalls in his memoir tennis parties where Miss Sloan's local legendary rhubarb cordial was served and the sideboards groaned with the weight of the trophies their prize cattle had won.
By the time Barry became custodian 25 years ago, the gardens were more like horse paddocks than their current immaculately presented state. The precise geometry of manicured hedges of azaleas, camellias, box and laurel, merges with sweeping grassy expanses, broad arcs of gravel drives and endless drystone walls punctuated by those original specimen trees and carefully framed statuary and garden furniture.
At the centre of Barry's universe is the spring-fed lake, bound on three sides by tiered plantings of varying colours and textures. "It took years to build, as it was dug by hand," Barry explains. "There was no other equipment available, so we just kept going till it was done." Almost 9000 bricks line the lake and the surrounding terraces that were created by the earthworks. Even today, Barry manages most of the maintenance on his own.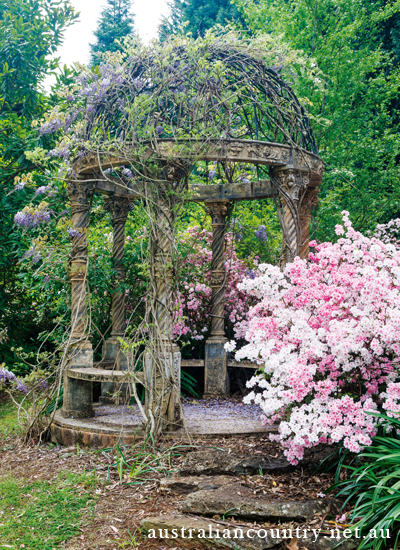 "I have the help of one wonderful man, who works four part-days a week and looks after the hedging and any heavy work," he says. "But for the rest of the time, I'm in the garden pretty much every day."
During the summers of this Claytons retirement all the watering is done by hoses and sprinklers and Barry says he plants more bulbs every year. Visitors flock to Bebeah particularly in autumn, when the grounds are ablaze with exotic colour, but Barry confesses his preference is for spring, when the dogwoods, azaleas and camellias compete for attention in a riot of pinks. "The weather is kinder in spring," he says. "Winters are long and cold in Mount Wilson. That's when I start dreaming of a tropical garden full of bougainvilleas."
For an acclaimed interior decorator, whose long career has taken him from Sydney to London, Italy and Singapore, it's somewhat surprising that Barry says he never had a formal plan. "I just started at the front gate and kept working until I ran out of money," he says. "Pretty much every cracker I've ever earned has gone into this garden but it's worth every cent, for the pleasure it gives me and the people who visit it. Just don't ask me anything technical or the name of any plant, because I don't know. I just have a good eye and I know what I like."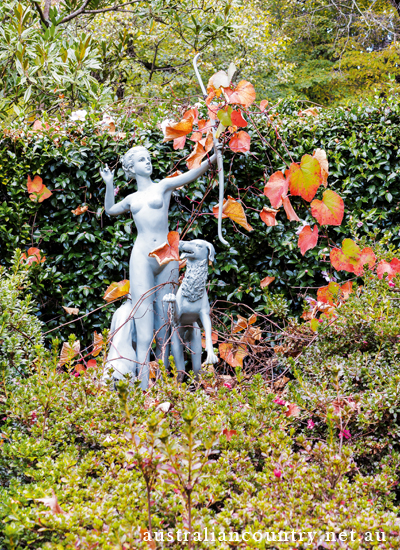 Bebeah is open most days of the week and there are two cottages in the grounds available for rent. Visit mtwilson.com.au for more information or call (02) 4756 2014.