Jen Ballard is an unabashed Francophile so it's little wonder her Blue Mountains retreat has a decidedly Gallic accent.
Most people yearning for a country life list peace and quiet as a primary objective. For Jen and Geoff Ballard it was precisely the opposite that attracted them to the village of Hampton on the western side of the Blue Mountains. As the owner of motorcycle parts company Ballard's Off Road and the driving force behind Australia's most successful Enduro team, Geoff was looking for somewhere he could make as much noise as he liked testing bikes and training for events without disturbing the neighbours.
He found what he was looking for at Hampton, a tiny village with a pub and a church and not much more on the road to Jenolan Caves, in 2006. He established a training track and man shed for boy's own weekend jaunts to the country. And that probably would have been the end of the story if Jen had not accompanied Geoff to Hampton for one of the weekend trips and taken a reccy tour of the district.
"I was just pottering around when I climbed up a path not far from the village," she recalls. "I looked over the fence and saw a wonderfully random garden and loads of daffodils. Then I realised that behind a wisteria-clad verandah there was a delightful historic house. I didn't want to intrude, so I retraced my steps. The property wasn't for sale, so I kind of put it out of my mind for a couple of years. But my interest was piqued and as soon as I heard it was on the market I knew I had to go back for a proper look."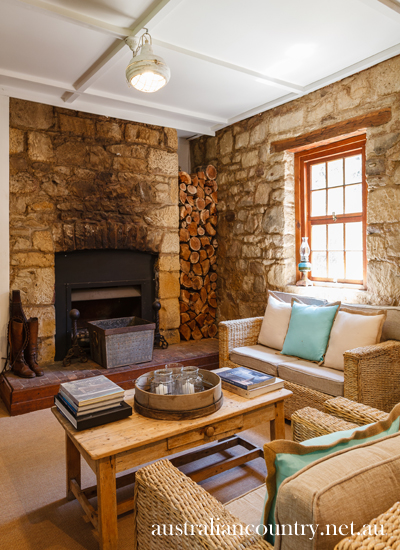 Regular readers of Australian Country might recall Jen from a story we ran in the February 2015 issue about the fabulous rustic French provincial home she created out of a former stable with a straw bale extension on Sydney's western periphery. They will also recall how Jen discovered her passion for all things French when she travelled with Geoff at the beginning of a professional motorcycle racing career that would see him become Australia's most decorated off-road racer, with an OAM for his services to the industry.
"Geoff was unbelievably good," Jen recalls. "He rode so fast, but he also crashed so many times he could go from first to last three times in a race. So when he decided to go to Europe to pursue his racing career, it was a given that we would go with him."
What followed was an amazing four years of thrills and spills and professional success. Living out of a motorhome on an absolute shoestring, Geoff and Jen and her then 11-year-old daughter based themselves in the north of France and travelled all over Europe on the circuit for the "Olympics of motorcycling", the International Six-Days Enduro (ISDE).
To support themselves between events they teamed up with the French answer to the daredevil Evel Knievel, Jacques Krouto, who ran a stunt show. So with Geoff on a bike, and Jen in the air precariously poised at the top of a ladder attached to the bike, or lying on the ground with her fellow team mates while the bikes jumped over them, they earned sufficient funds for Geoff to represent Australia 26 times and add 12 gold medals and seven silver medals to his CV.
France brought an awakening of a different kind, because Jen had found the aesthetic that she loves and celebrates to the present day. "I fell in love with the cobblestone streets, the stone houses and walls and big baskets of geraniums," she says. "I saw such beauty in marble and cast iron and utilitarian objects that have the patina of age."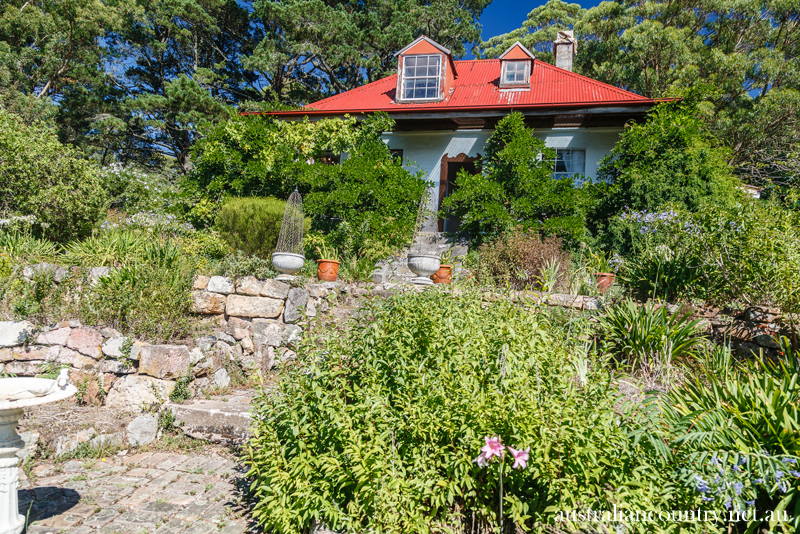 en set about giving the farmhouse a facelift with a distinctly French accent. Floor coverings were removed and floorboards polished, bedrooms cleared out, rustic iron light fittings added and shabby painted finishes utilised throughout. Jen then set to work colouring in the details, with soft furnishings, books and big urns of flowers to give the home a light and bright ambience that still acknowledged its long history.
Sadly, the Ballards had little time to enjoy the retreat when they moved their business to the Gold Coast. So when Australian Country visited the property was again on the market and Jen was looking forward to the next challenge. "I had visions of lots of lovely girls' weekends in the mountains and sharing the garden and the produce with family and friends," Jen says. "However, it was not to be and now I'm on the lookout for another project, possibly in Queensland. Who knows what's around the corner?" As they say in the serials, watch this space.
The complete story was originally published in Australian Country issue 20.5. Click here to subscribe to our magazine.
Click here for more farm life stories.
Words Kirsty McKenzie
Photography Ken Brass