CHOCOLATE FIX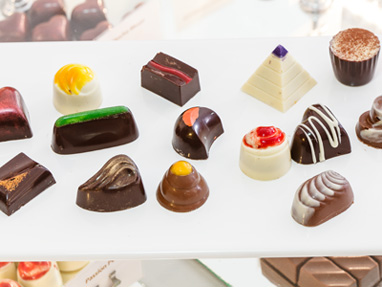 Unlikely though it may sound, it was Neil Funston's job as a food process engineer that made him turn to chocolate. Long hours, lots of travel and a good measure of stress from meeting deadlines began to take its toll and Neil cast around for a relaxing hobby to counter the pressure. His wife, Robyn, who also had her fair share of stress working for the DPI, had already found her release valve as a passionate cook. She'd established a B&B in their home 17 kilometres from of Rutherglen in the heart of the wine making country of north-eastern Victoria and loved nothing better than cooking up a storm for their guests.\
Neil understood the science of chocolate from his days working for Uncle Tobys and Nestlé so it wasn't too great a leap when he decided to take up hand-making chocolate at home. Determined from the outset to use only the finest ingredients, he scouted around for suitable local produce to use in the fillings. Before long he had sourced local dairy products for his ganache and caramels, hazelnuts and almonds, honey, chillies and fruit for the jelly centres.
He decided on the celebrated Beligian/Swiss chocolate manufacturer, Barry Callebaut, for his couverture, largely for the company's ethics. "Cocoa is grown all over the tropical world from PNG and Africa to South America, so there are lots of plantation families trying to earn a living," Neil explains. "Barry Callebaut doesn't just make the world's best chocolate, it also goes the extra mile to make sure their product is fair trade and sustainable. The company actually puts some of its profits back into the communities they buy from, and I liked they way they do business."
Rutherglen being a country town, it wasn't too long before word got out that Neil was "playing with chocolate". One of the local wineries approached him asked if he would make truffles using their wines and fortifieds. The first batch was quickly snapped up at cellar door, so the next week they doubled their order.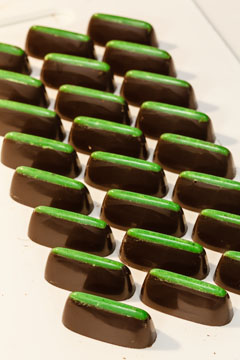 "Before I knew it, we were making six different wine truffles," Neil recalls. "Robyn and I were still working full time and we were up till all hours at night and on weekends making chocolates. I took a redundancy then consulted for a while, but in June, 2010 I decided to take the plunge. I wrote a business plan, told all my clients I was quitting and the next day I started converting the farm's machinery shed into a chocolate factory and coffee shop."
Everyone, it seems, is fascinated to learn more about chocolate and most visitors to Renaissance Chocolates linger a while to watch the process through a glass wall to the factory.
"Tempering is one of the most critical processes when handling chocolate," Neil explains. "The process of heating it and cooling it to precise temperatures is exactly, but it's what gives chocolate its sheen. It's also enhances the taste and texture and gives the finished product a nice snap to it when you bite into it."
Neil adds that making a Renaissance chocolate can be a three-day process. "We make the fillings first, then line the shells with molten chocolate," he explains. "After they are filled we leave them overnight to settle, then finish them off with a chocolate base. Then there's packaging and dispatching, not to mention shopfront sales, local markets and general publicity and marketing."
By the end of last year, it had become too much for Neil to handle on his own and Robyn also took the plunge and gave up her day job. Sales have gone from strength to strength and the Funstons report they have never been busier … or happier.
"They say the secret in life is to find the thing you love doing and work at it," Neil says. "It's certainly been true in my case. There's a lot less stress in my life, I get to eat chocolate every day and I feel great. I just wish I'd worked it all out earlier."
Brands Article Feeds