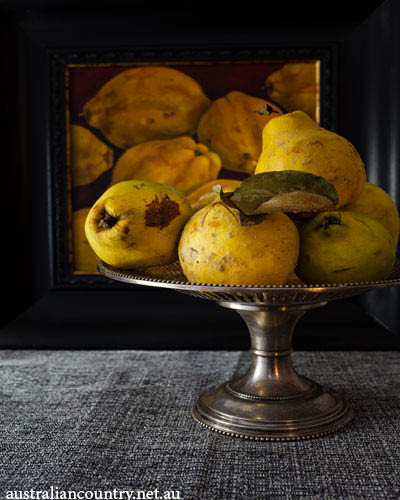 Because the perfume wafts through the house and sweetens winter dreams, I always slow poach quince overnight in  the oven. Lifting the lid of the pot in the morning with anticipated pleasure is never disappointing. The hard white-fleshed fruit has undergone a transformation to a luscious rosy red. Its perfume, concentrated in the pot, escapes with an ambrosial intensity, lingering in the kitchen during the day, inspiring ways to use it. Contrary to common misconception, quinces are very easy to cook. It is worth cooking in quantity as quinces are definitely seasonal. Quinces complement both sweet and savoury foods. Buy quince when they are yellow and smooth.
Quinces go with: Hazelnuts, walnuts, almonds, pine nuts, currants, cinnamon, ginger, lemon, brandy, Amaretto, Frangelico, stone fruit and pears, yoghurt, cream, poultry, game meats, parsnip and potatoes.
These recipes were originally published in the May 2016 issue of Australian Country. Subscribe to the magazine here.
Click here for more recipes.
Recipes & styling by Kay Francis
Photography Ken Brass
  Quince and Chicken Liver Pâté
Makes 3½- cups
1 kg chicken livers, cleaned,
to give about 800g
3 rashers rindless streaky bacon,
cut into small dice
2 shallots, diced finely
100g butter
½ cup brandy
½ teaspoon allspice
1 cup cooked quince
½ cup pure cream
Topping
2 sheets gelatine, soaked in cold water
1 cup quince cooking liquid
1 tablespoon brandy
To clean livers, remove connective tissue and blood vessels. You will break down the livers in the process. The more you remove at this stage the easier it will be to sieve the mixture later on. Place bacon and shallots in a frying pan and cook over a medium heat until onion is translucent and bacon cooked but not brown. Transfer mixture to food processor. Melt a third of the butter in the same pan over a high heat. When beginning to brown add half the chicken livers. Cook, stirring, for 5 minutes. Transfer mixture to food processor with onion mixture.
Repeat with a third more of the butter and the remaining livers. Pour brandy into pan and light it to flame. Take care to avoid overhead cupboards and extractors. When flames subside, add mixture to food processor. Reduce heat under pan and melt remaining butter, adding allspice, quince, cream and freshly ground black pepper to taste. Heat, stirring until well combined. Pour into food processor with remaining ingredients and process until smooth. Position a fine wire sieve over a bowl and spoon in pâté mixture, in batches. Push through the sieve with a rubber spatula, and scrape off underside with a clean metal spatula, so mixture falls into bowl. Discard solids remaining in sieve, between each batch. Spoon pâté into desired containers, leaving space for the jelly topping. Cover with plastic wrap and refrigerate until firm.
Meanwhile, heat quince liquid in a small saucepan, stirring in soaked gelatine until dissolved. Stir in the brandy. When mixture has cooled and pâté is firm, carefully pour liquid on top and stand at room temperature to set. Pâté can be refrigerated or frozen until required. Serve with bread, crackers or vegie sticks.
  Tagine of Quince, Quail, Parsnip & Pepper
Serves 4
4 tablespoons date molasses
2 quinces, washed well and
sliced thickly
2 parsnips, peeled and sliced
1 cinnamon stick
1 cup chicken stock
4 spring onions
4 quail
1 tablespoon black peppercorns,
crushed
½ teaspoon dried crushed chilli
1 tablespoon currants soaked in
lemon juice
Preheat oven to 180°C. Spread half the molasses over the inside base of the tagine. Place quince, parsnip and cinnamon stick in tagine. Pour in chicken stock. Wash quail and pat dry with kitchen paper. Trim spring onions and insert one into each quail cavity. Tie quail legs together with string. Brush remaining date molasses over each quail and position them over mixture in tagine. Sprinkle pepper, chilli and currants over quail. Put lid on tagine and then place in reheated oven. Cook for 2 hours, or until quince is soft and quail golden. Serve on heated plates.
  Quince Mousse & Hazelnut Meringue Cake
Serves 8

4 large egg whites (almost ½ cup)
1½ cups pure icing sugar
100g hazelnuts
1 tablespoon cornflour
Mousse
1 cup pouring cream
2 cups cooked quince and syrup
½ cup Frangelico liqueur
8 sheets gelatine, soaked in
cold water to soften
Icing sugar, to serve
Preheat oven to 120°C. Draw two 20cm circles on two sheets of baking paper with pencil. Turn the paper over so the lead markings are on the underside, but can still be seen. Place the paper on two baking trays.
Beat egg whites until stiff peaks form. Place icing sugar in a blender and blend until smooth (or push through a wire sieve). Beat one tablespoon at a time into egg whites until glossy and stiff. Finely grind hazelnuts in the blender. Gradually beat into meringue mixture with the cornflour. Pour equal amounts of the mixture into each circle on the baking paper, keeping meringue slightly away from the edge. Bake in preheated oven for 40 minutes. Turn off oven and leave door slightly ajar until meringues are cool.
To make mousse, whip cream in a large bowl. Blend quince and Frangelico together. Squeeze excess water from gelatine and put gelatine into a small bowl. Add 1-2 tablespoons boiling water and stir until gelatine had dissolved. Blend mixture into quince, then fold quince mixture into whipped cream.
Line the base of a 23cm springform cake pan with baking paper. Place one of the meringue rounds in the tin. Pour mousse onto it then position second meringue on top pressing gently. You may need to trim the meringue to fit the tin. It will crack a little, but this will also happen when it is cut to serve.
Refrigerate until set. To serve, remove from tin onto a serving plate or board. Dust with icing sugar.