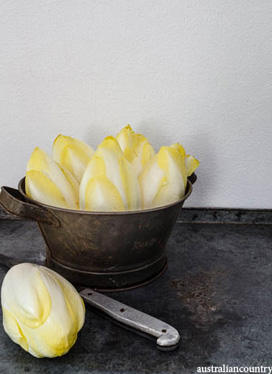 WITLOF RECIPES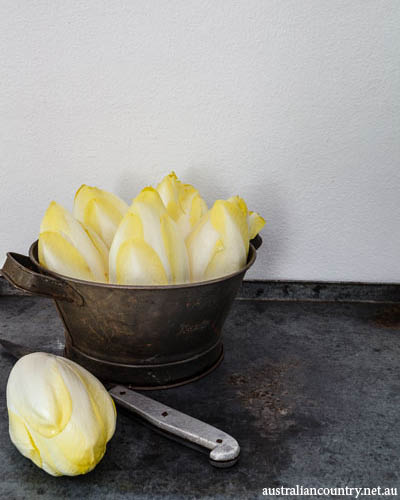 The master of identity confusion — witlof (meaning white flower), also known as witloof, witloof chicory, Belgian endive, French endive, chicon, chicory, endivia — was an accidental bonus for a Belgian farmer in the 1830s.
Selection & storage: Witlof is kept in the dark to prevent the leaves turning green and bitter. It is often sold wrapped in coloured paper. Avoid buying witlof that has become green, or has open leaves. Refrigerate in a brown paper bag, and use within a few days of purchase. Serve raw in salads, separate leaves as boats for finger food — try filling with sang choi bao and hoisin sauce — or cut in half and grill, wrap in bacon and roast, or poach whole.
Witlof goes with: Blue and white cheeses, yoghurt, walnuts, nutmeg, apple, pear, fennel, currants, lemon, chilli, Hollandaise sauce, anchovies, garlic, smoked chicken, poultry, pork, seafood, bacon, eggs.
These recipes were originally published in Australian Country issue 19.7. Discover more delicious recipes and subscribe to our magazine here.
Click here for more recipes.
Recipes & stling Kay Francis
Photography Ken Brass
 Witlof with Egg & Bagna Cauda
Serve as hors d'oeuvre. Makes about 20 pieces
Leaves from 1 chilled witlof, trimmed
and separated
4 eggs, boiled and cut into small dice
1 tablespoon finely diced shallot
1 tablespoon baby capers
Bagna Cauda
8 cloves garlic, peeled
½ cup milk
1 5 white anchovy fillets, drained
and crushed
150g butter, at room temperature
⅓ cup olive oil
¼ cup pure cream
To make my adaptation of bagna cauda, which is an old Italian recipe that translates to hot bath, cook garlic in milk over a low heat for 15-20 minutes, until garlic is soft. Mash garlic and add anchovies to pan. Stir over a low heat until mixture forms a paste. Add butter and olive oil and stir until combined. Stir in cream, and cook for a further 10 minutes. Serve warm. Arrange witlof leaves on a serving plate. Combine egg, shallot and capers and spoon a small amount into each leaf. Pass bagna cauda separately to spoon over egg mixture.
 Grilled Witlof & Tuna
Serves 4
4 whole witlof, base trimmed
and halved lengthways
2 medium thickness tuna slices
2 tablespoons date molasses
2 shallots, diced finely
1 red chilli, seeded and finely sliced
1 tablespoon currants soaked
in lemon juice
4 balls labne plus a little of the oil
Watercress sprigs, to serve
Brush cut surface of witlof and both sides of tuna with date molasses.
Heat a ribbed grill pan on high, place witlof, cut side down in pan and grill 5 minutes. Turn and grill 2 minutes more. Remove from pan to a plate. Grill tuna 5 minutes on one side, turn and grill 2 minutes more. (If your grill pan is large enough to accommodate the witlof and tuna without crowding, grill both components at the same time.)
Cut tuna into 2cm dice. Arrange on serving plates with witlof and sprinkle remaining ingredients over. Sprinkle a little of the labne oil over the top.
 Witlof Roasted in Bacon
Serves 4
4 witlof
12–16 rashers of streaky bacon
16 small new potatoes
4 small bulbs fennel, trimmed
and cut into 6cm dice
Fresh chives
Quick Hollandaise
½ cup white vinegar
½ teaspoon pink or black peppercorns
1 bay leaf
4 egg yolks, at room temperature
250g hot melted butter
1 teaspoon lemon juice
Salt to taste
To make Hollandaise, place vinegar, peppercorns and bay leaf in a small saucepan and boil to reduce to 2 tablespoons. Place egg yolks in blender and while machine is running, slowly add hot melted butter. Strain in vinegar and blend, then lemon juice and salt to taste and blend. Keep the Hollandaise at room temperature until ready to serve.
Preheat oven to 160°C. Trim stalk ends from witlof. Wrap each in streaky bacon like a bandage, starting at stalk end. Place in a single layer in an ovenproof pan. Roast in preheated oven for 60 minutes. Steam whole potatoes until tender. Transfer witlof to a plate and keep warm. Add fennel to bacon fat in pan and cook over a medium heat until golden brown. To serve, slice witlof and potatoes thickly and arrange on a serving plate or board with fennel. Garnish with chives. Serve Hollandaise in a separate dish.