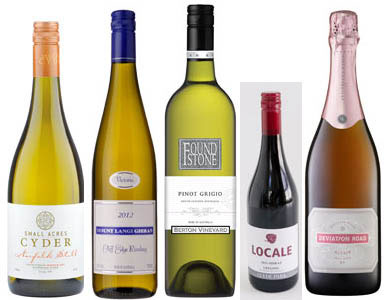 Australian Cider
Cider is the booze bandwagon everyone is jumping on. The cider market is growing by a third every year and is squeezing the beer from the bottle shop fridge. As with most fads there are the artisan fanatics and the frauds who are just cashing in. The fanatics seek out obscure apple varieties such as Kingston Black, Foxwhelp, the Cox's and Sturmer Pippins and the attractively named Brown Snout. The frauds import apple concentrate. The difference between proper cider made by crushing and fermenting real apples (or pears) and the sweet, fizzy alcoholic 'cider' which is made from apple juice concentrate has to be tasted to be believed. If you need convincing seek out some of these local producers: The Hills Cider Company, Adelaide Hills SA (thehillscidercompany.com.au) Small Acres Cyder in Orange NSW (smallacrescyder.com.au), Bress Cider in Harcourt Vic (bress.com.au) and Red Sails Cider in Middleton, Tasmania (redsails.com.au).
Sipping or Cellaring
Mount Langhi Ghiran Cliff Edge Riesling 2012
Langi Ghiran may be famous for its Shiraz but don't neglect its Riesling. This affordable delight is austere, dignified and a great expression of the variety. It already shows a touch of bottle age and is delicious with grilled trout but could benefit from another five or so years in the cellar.
Summer quaffing
Foundstone Pinot Grigio 2015
Subtlety is not a word you would normally associate with an $8 white but it is appropriate here. This is a European-styled white; light, fresh, relatively low in alcohol, subtly flavoured and great with seafood and salads.
Barbecued duck
Clyde Park Locale Pinot Noir 2014
Pinot at this price point is rarely exciting but this one really grabs a pinot fancier's attention. Bursting with flavour and aroma there's juicy cherry and plum fruit, great texture and it's a wonderful red to sniff and savour. Barbecued duck is the perfect accompaniment.
Celebrating
Deviation Road Altair Brut Rose NV
Elegant and distinguished, this meticulously made pale pink bubbly has whiffs of strawberry and Crofton apples, a delicate bubble and a finish that is super clean. It's perfect for canapes.
Did you know?
There are two different methods winemakers can use to give a rose or pink sparkling wine its colour. The most common is the taché method. The word means stain in French and the white wine is literally stained by the addition of a little red wine. The other method is a bit trickier and harder to control. The juice from red grapes used for making Champagne such as Pinot Noir or Pinot Meunier is allowed to pick up a little colour from its skins.