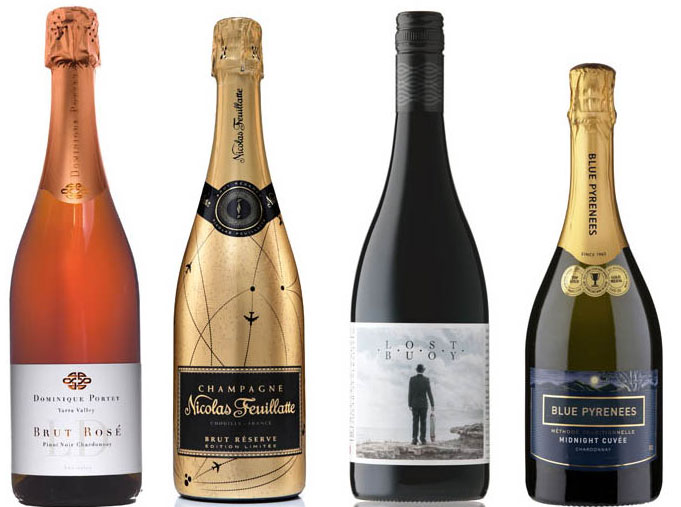 Bubbly for Christmas
'Tis the season to drink bubbly; but not all bubblies are created equal. Sparkling wine goes through more winemaking processes from fermentation to flute than any other wine style and when corners are cut you can see, smell and taste it. Here are three that are worthy of your festive attention.
Dominique Portet Yarra Valley Pinot Noir Chardonnay Pinot Meunier Rose NV
Put aside any prejudice you may have for pink bubbles, this is just a fantastic sparkling wine, full stop. It's a beautiful pale salmon in colour with fine, even bubbles and wonderful balance. At this price it's great value too.
Blue Pyrenees Midnight Cuvee 2010
Voted World Champion Australian Sparkling Wine at the inaugural Champagne and Sparkling Wine World Championships, the accolade is well deserved and long overdue. Midnight Cuvee has been one of this country's best for a long time.
Nicolas Feuillatte Réserve Particulière Brut NV
This is France's top selling Champagne brand; it's not serious Champagne for the cognoscente but bubbly designed for its original purpose — parties. The limited edition 'explorer' packaging makes it extra festive.
Book for browsing
James Halliday's Wine Companion 2015 Edition, Hardie Grant Books 
There are plenty of wine guides to choose from these days but James Halliday's Wine Companion is the one that winemakers peruse feverishly to see how they scored. It still leads the pack — informative, accurate and comprehensive.
A red on a budget
Lost Buoy The Edge Shiraz 2013
This new winery started life as Lion Point, a name which was challenged by Lion Nathan. Lost Buoy — a better name anyhow — is the new moniker. This Shiraz offers plenty of McLaren Vale blue and blackberry goodness and at this price is a steal.
Did you know?
In the past few years Australia's love of Champagne has seen us go from eight to seventh to the sixth largest importer of the French product. That's more than six million bottles!