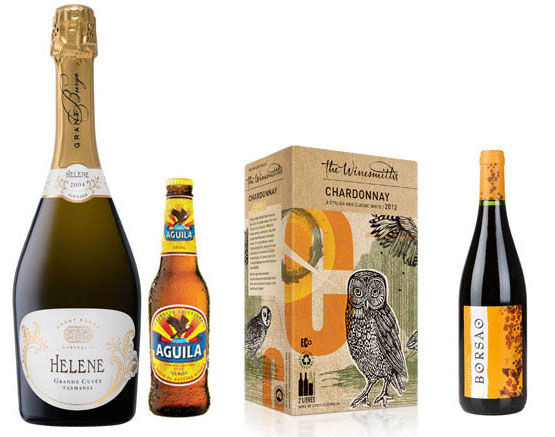 Sparkling wine for a celebration
Grant Burge Helene Grande Cuvee 2004
Ego and winemaking are not unrelated. Winemakers have a rather narcissistic tendency to name their best wines after themselves. Patriarchs and matriarchs often get on the label but spouses and beloveds rarely get a look in. There are arguably more wines on the bottle shop shelves in Australia named after dogs or bins than wives … or husbands for that matter. True, Charlie Melton named his Rose of Virginia after his wife, but his is a rare exception to the norm. That is until the launch of Grant Burge's new delicious sparkling, Helene Grande Cuvee 2004, which is named after his wife Helen, sort of … both wife and wine have a Tasmanian connection. The wine is made from fruit grown in Tasmania, the climate recognised as the best place to grow chardonnay and pinot noir for sparkling wine. Helen grew up in Moonah, a suburb of Hobart in a house called Helene. The story goes that when Helen was born Helen's Dad opted for Helene but her Mum favoured the easier to spell Helen. It's a worthy wine to name after one's wife — fine, delicately perfumed, complex and aged for just the right amount of time. So, we ask, is Grant Burge's top sparkling wine named after the house or Helen? Romantics would have to opt for the latter.
Beer for the fridge
Aguila Beer
Columbia is more famous for cocaine and soccer than beer but that may change with the arrival of this summer quencher. At four per cent alcohol, it sits between a mid-strength and a full-strength Aussie brew. It's light but not lightweight and easy to slam down on a hot day — or after kicking a football.
Wine for the environment
Winesmiths Chardonnay, Tempranillo, Shiraz, Pinot Grigio 2 litre
The practicality of the cask is undoubted but wine quality and the bag-in-box stigma often override perceived practicality. Ten years ago casks accounted for half of the wine consumed but that has been declining. Now comes a range of four two-litre boxes which seek to address the demise of the wine cask. The packaging is funky and 75 per cent recycled and the wine inside is bottle quality. They are a practical solution for those who want to drink by the glass, not the bottle, and with a carbon footprint 13 per cent less than bottled wine, they're green as well as white and red.
Wine for the budget
Borsao Tinto Seleccion 2011, Dan Murphys, BWS
Here's a Spanish red made from grenache, shiraz and tempranillo that could easily wear a bigger price tag. Easy to drink but with enough interest and complexity for those who want to look for it, Borsao Tinto is a great partner for pizza, pasta and barbecued chicken.
Did you know?
Despite all the talk of the high dollar punishing wine exports, we are the fourth largest wine exporter and almost 30 million glasses of Australian wine are consumed globally each day.