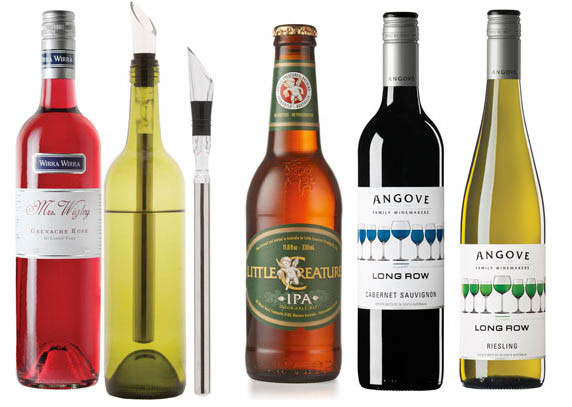 Wine for autumn
Soumah Yarra Valley Al Fiori 2013
Wirra Wirra Mrs Wigley Grenache Rosé 2013
Willow Bridge Estate Dragonfly Rosé 2013
As the leaves turn red so does the wine we tend to favour.  But there's a shade of wine in between white and red that's perfect for autumn drinking – rosé. It's a wine style that sits between white and red and suits our Indian summers when the heat is still there but the burn isn't. A crisp, lightly chilled rosé goes perfectly with salads made from summer vegies.
A quick fix
Need to cool a bottle of wine down fast? Well here's a solution. Chill n Pour is a stainless-steel probe filled with a special gel that, after 30 minutes in the freezer and inserted into a bottle, can chill a wine quickly and keep it cold.  It's not nearly as romantic as the neck of a bottle leaning lazily out of an ice bucket but is much less messy.
Beer for the fridge
Legend goes that in the days of the Raj, ale was shipped to the Brits in India and was given an extra dose of hops to survive the voyage. And so the India Pale Ale (or IPA) was born. This newly released Little Creatures IPA is no pale imitation of the style. It's a hefty but well-balanced 6.4 per cent alcohol brew and, for the technical beer heads out there, the IBU (international bittering units) score is 60 – the average Aussie bitter is about 25. It's a beer to sip and savour rather than slam.
Wine for the budget
The bang-for-the-buck award this issue goes to the Angove Long Row Range. A paltry $10 buys some stylish wine. There are eight varietals in the range and the picks are the flavoursome Cabernet Sauvignon 2012 and the aromatic Riesling 2013, which won a gold medal at last year's Brisbane Wine Show.
Did you know?
The Romans had a very bad habit of using lead in their wine making to affect the sweetness and texture of their wines. Some scholars have suggested Roman wine contained at least 1g of lead per litre.