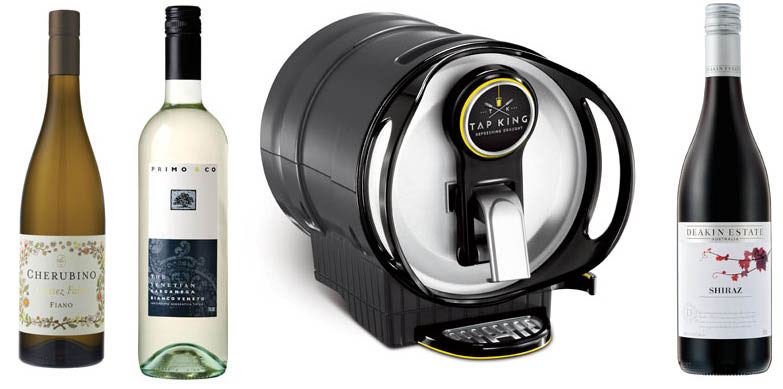 Italian Wines for the Table
Australian wine makers love experimenting with different grape varieties. Lately, their experiments have been concentrating on Italian white varieties. These whites are subtly flavoured (compared to, say, a Sauvignon Blanc) and come into their own matched with food at the table. Here are three whites you may never have heard of but are well worth a try.
Rupert's Ridge Vermentino 2012
Vermentino is grown in the warmer parts of Italy such as Sardinia. This white is from Heathcote in Victoria and it's an Italian variety made in a French way with a little oak influence. The result is an intriguing, textured white with whiffs of herbs and almonds – it goes very nicely with smoked trout.
Cherubino Laissez Faire Fiano 2013
Fiano is a variety beloved by the ancient Romans and is coming back into favour. Here, the highly regarded Western Australian winemaker Larry Cherubino has produced a wine with Fiano that is delicate but with lots of character — honey, musk, hints of fennel and delicious with a seafood salad.
Primo & Co the Venetian Garganega Bianco Veneto 2011
If this tastes like a real Italian wine, it's because it is. This is a wine made in Italy by Joe Grilli (an Aussie winemaker with an Italian background) and then imported under his label. Garganega is the variety that makes the famous Venetian white, Soave, and this tastes like one. It's low in alcohol (11 per cent) and has aromas of straw and lemon zest and incredible delicacy — very nice with freshly shucked oysters.
Beer from the Fridge
Tap King
Tap King has been on the market for a while now and if you haven't encountered it already, it's worth a look. It's a system for dishing out draught beer at home. It works well, the choice of beers (Lion Nathan products) is reasonable and, as long as you chill it right down before the first pour, delivers a fine-looking and -tasting brew for a fair price. Portion control is the only real problem.
Wine for the Budget
Deakin Estate Shiraz 2012
The recommended retail is $10, however this budget-busting red can easily be found two dollars cheaper. Don't expect hugeness or complexity, it's a simple, pure shiraz ideal for the average barbecue.
Did you know?
Winemakers employ various techniques to season their wines with oak. The expensive way is in a barrel. Oak barrels are handmade, expensive, hold only 225L of wine and are only new once. An ingenious and economical way around this problem is the Innerstave. These are pieces of new oak, which are placed inside old barrels and stainless-steel fermenters.