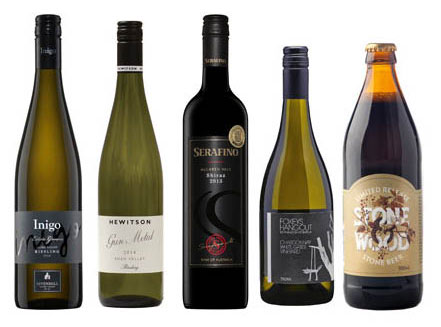 Dollar for dollar Australian Riesling offers incredible value. Arguably it is this country's finest expression of white wine and you can buy the very best this country has to offer for under $50. That can't be said for the rest of Australia's renowned wines. But you don't have to spend that much to get a taste of what all the fuss is about. Here are examples from two of this Australia's great Riesling regions that sum up what Riesling is all about.
Sevenhill Inigo Clare Valley Riesling 2014  – Clare Valley produces unique Riesling and the vineyards of Sevenhill are higher than most, which adds to the finesse. It's zesty, limey and very light on its feet – a wine that flatters fresh fish.
Hewitson Gun Metal Eden Valley Riesling 2014 – This is not a wine for cleaning rifles. Gun Metal refers to the steely nature of the wine and the colour of the rocks in the vineyard. Crisp, dry with that tangy minerality, it's delicious with fresh seafood, especially freshly shucked oysters.
A red to remember
Serafino Black Label Shiraz 2013
Look out for this label – it's on the rise. With a flash Jimmy Watson winning winemaker and flash new winery, the wine is everything you expect from McLaren Vale Shiraz – round, rich and mouth-filling.
Lashing out on Chardonnay
Foxeys Hangout White Gates Single Vineyard Chardonnay 2013
If you're looking for a Chardonnay to lash out on, don't go past this one. Sourced from a vineyard in front of the house of the winemaker, the wine has been fermented with naturally occurring yeasts and with little intervention. The fruit speaks with great articulation and deserves the very best poultry.
Bargain Bordeaux
Chateau Les Maurins Bordeaux 2013, Aldi stores
Ten dollar Bordeaux is normally a recipe for disappointment, but not here. It's satisfying, ripe very identifiably Bordeaux, and excellent with pink lamb.
A warming brew
Stone and Wood Stone Beer 
While some brews brag of the latest technology this one uses techniques that are positively medieval. Heated rocks are added to the kettle giving a distinctive caramelisation to the malt. It's a dark ale at a hefty 6.9% alcohol and can be hard to track down. It can be purchased through the website, stoneandwood.com.au.
Did you know?
Despite the current unfashionability of Chardonnay it still accounts for half of Australia's white wine.