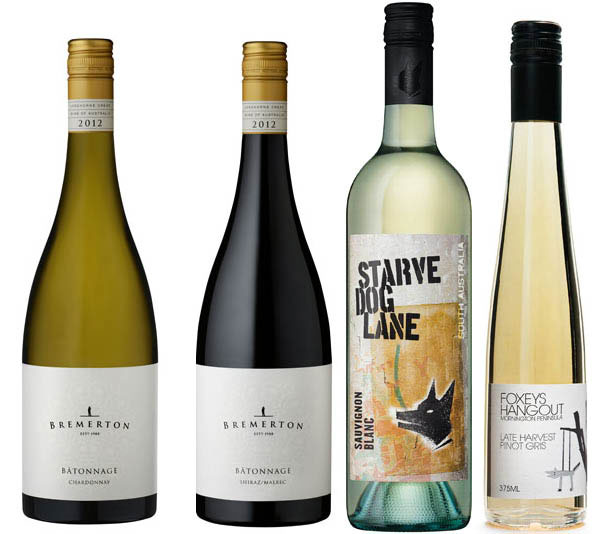 A winery to discover – Bremerton
Some wineries plagiarise and purloin and some just do their own thing. Bremerton definitely falls into the latter category. Based in Langhorne Creek — a region that has gone in and out of fashion but over the years has produced some of Australia's greatest red wines — the Willson sisters, Rebecca (winemaking) and Lucy (marketing) have put their faith in Malbec when everyone else wanted to pull it out and Shiraz when it wasn't as trendy as it is today. Their latest Bâtonnage release comprises a stylish but unfashionable Chardonnay and an excellent but not exactly chic 2012 Shiraz/Malbec blend. Both utilise the French technique of stirring the yeast lees in the barrel to achieve greater complexity and texture. The Bâtonnage wines are both $32 and available from a limited range of outlets and restaurants or direct from the winery.
bremerton.com.au
A white for the fridge
Starve Dog Lane Sauvignon Blanc 2013
Starve Dog Lane is not some RSPCA horror story but a wine label that sells good wine at great prices. Blending fruit from the Adelaide Hills with the more robust flavours of the Clare Valley and other South Australian regions, these wines drive your flavour dollar further. The Sauvignon Blanc is fairly bursting with gooseberry, lime and coriander seed aromatics, which makes it a great partner for Asian food.
A wine for dessert
Foxeys Hangout  Late Harvest Pinot Gris 2011
Some stickies can be just too sticky. This one from a carefully tended vineyard on the Mornington Peninsula in Victoria has hints of mandarin and marmalade and is sweet but not sickly. It's just right for a steamed pudding or some blue cheese.
An investment to savour
For those with a taste for fine whisky and a good investment, here's an opportunity that combines both. A paltry $30,000 buys you two 225 litre casks of Nant Tasmanian Highland Malt Whisky with a guaranteed buy back on maturation (or a minimum of four years) of $43,203. That's a compound interest rate of 9.55%. Could any investment be more palatable?
Nant.com.au
Did you know?
Islay malt whiskies such as Laphroig get their unique salty, iodine (some say medicinal) flavours from their coastal surroundings. The peat used to dry the malt is comprised of decomposed seaweed, and the peat smoke carries that seaweediness through to the barley. As the whisky matures in the barrel, it expands and contracts breathing in the salty coastal atmosphere and adding further maritime nuances.