Christmas in Australia is its own special blend of searing heat, surfside holidays and al fresco feasting. So we really can only dream of a white Christmas, dashing through the snow, and even if the air conditioner is working overtime, Frosty will never be a part of our festivities. But that's ok, we've adapted a few classic carols — boomers in place of reindeers — and we've certainly catered Christmas dinner to suit December Down Under.
Now, we're showing you an easy way to make a festive wreath that's perfect for a summer Christmas celebration. It's as striking as it is simple, and no matter which part of this great southern land you call home, we promise you'll be able to make it work for you. Grab a basket, get ready to forage, and prepare for the gasps as your guests admire your handiwork.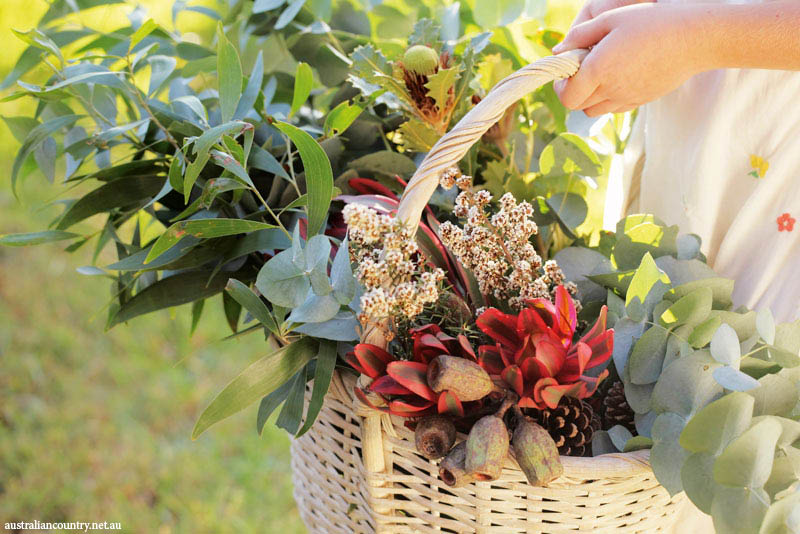 Gather foliage and flowers from around your property, making sure to cut long stems and branches. Gum branches provide a lovely base colour and texture. They're also malleable and durable, making them easy to work with. Look for natives that will provide pops of colour, and anything that might create texture and interest such as pine cones or gum nuts.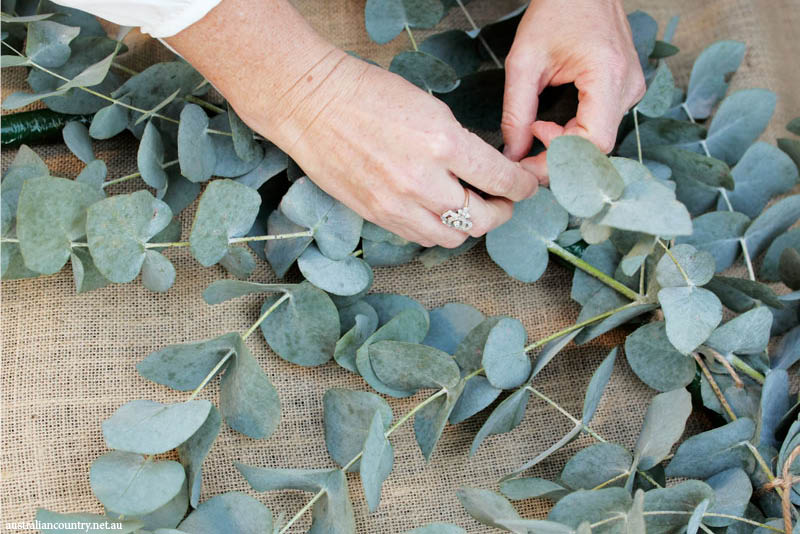 1. Cut several pieces of twine about 15cm long and use them to tie branches to the hoop. Tie in several places to ensure the circular shape is maintained. Tie each successive branch from halfway along the previous branch. Keep going until the foliage covers the entire hoop and you're satisfied with the density of your base layer. A wreath of solely green native branches is effective, as is adding Christmas ornaments if colourful flora is in short supply.
2. Attach the flowers in clusters around the wreath. Use plenty of twine to ensure they stay put once you hang your wreath. See our expert tips for species that will go the distance and dry well.
3. Prop your wreath against something on the ground and take a final look at where you may need to trim wayward sprigs or add more colour. This will also help to make sure that all the twine is holding firm before you hang your wreath.
4. Use a twine loop to suspend your wreath wherever it will have most visual effect. Shot at Solothurn Rural Resort in Reesville, Queensland.
The complete story was originally published in Australian Country issue 19.8. Click here to subscribe to our magazine.
Click here for more creative corner stories.
Words Tamara Simoneau
Photography Anastasia Kariofyllidis