Charlie Cooper struggles to identify a single highlight from his bagpipe playing career with the Melbourne's Scotch College Pipes and Drums band. The problem, he explains, is there have been so many of them. Perhaps it was when he played at Edinburgh and Stirling Castles during the band tour of Scotland for the European Pipe Band Championships. Or maybe it was during that same trip when and his 30-odd band members got to ride on the Jacobite steam train over the Glenfinnan Viaduct, better known as THAT bridge on the Harry Potter Hogwarts Express route. Or maybe it was being part of a flashmob in Federation Square during a tartan festival. Oh hang on, there were two nights last December he was part of the band that played Mull of Kintyre with Paul McCartney in front of a 30,000-strong audience at AAMI Park.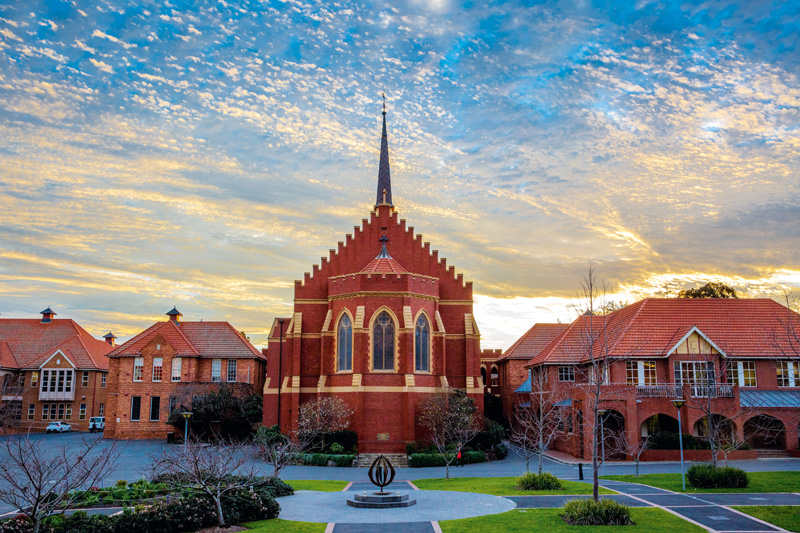 "It was pretty amazing as we only knew about it a week before the concert, so we had to get the music down quickly," Charlie says. "When I received a text saying we were playing with him I thought it was a joke. But it wasn't and fortunately we are fast learners."
The 25 drummers and pipers from Scotch College's elite band had only one on-stage rehearsal before they went on stage and wowed audiences with their rendition. "It was amazing to be backstage and to see the level of technology and planning that goes into a concert like that," Charlie says. ''At the end of the show Paul thanked each of us individually and shook our hands. And he signed the front of the drum for my friend, who was the head drummer."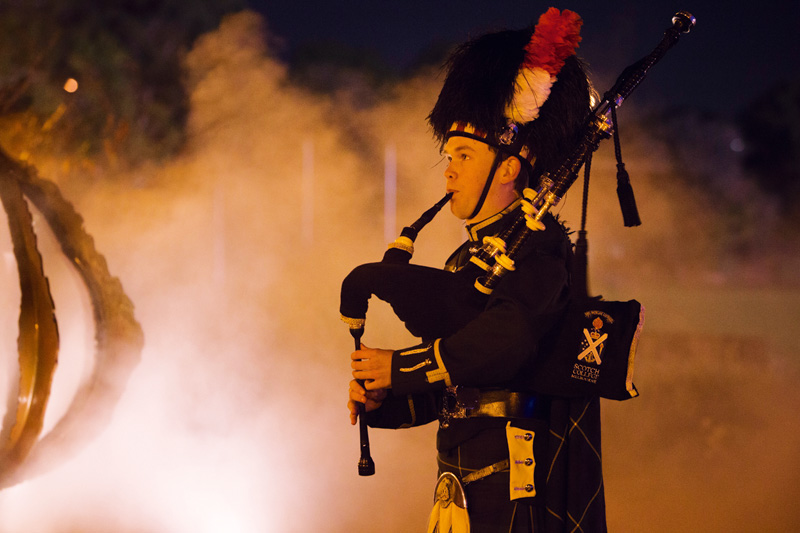 Charlie is a year 11 student at Scotch College Melbourne, Victoria's longest continuously running secondary school. Originally established in 1851 in a small house in Spring Street in Melbourne's CBD, the school moved to its present 27-hectare campus in Hawthorn in 1926. Today the school has a roll call of approximately 1880 boys, of whom 150, including Charlie, are boarders. About 430 of them are in the junior school, which is conveniently located on the same campus. The school also has 80 hectares of forest in the Healesville Hills and a residential camp on Phillip Island where the students pursue various outdoor and recreational activities.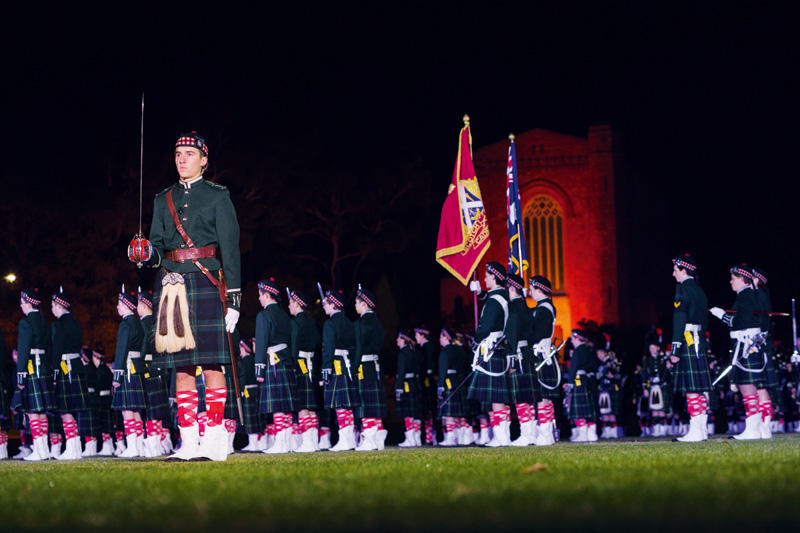 As Mark Saul, the teacher in charge of Pipes & Drums explains, Scotch is proud of its Scottish heritage and has had a pipe band since 1946 when Donald (Danny) McPherson was appointed as pipe tutor to the school. "Before that the school's cadet unit had always used the Hawthorn Pipe Band for its events," he says. "But now our own bands perform at the annual tattoo and retreat ceremony as well as a host of other events including Anzac Day parades and street fairs. They also provide entertainment at nursing homes and other community charity events."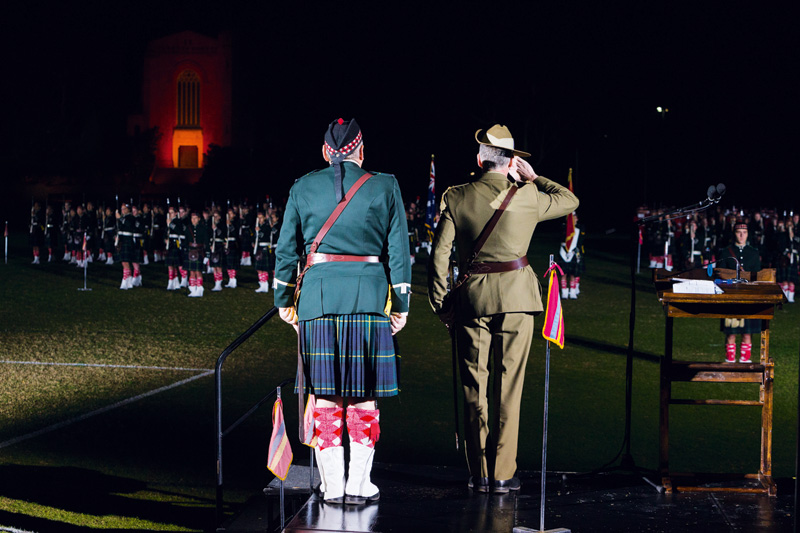 Mark, who was a graphic designer in a previous life but has always played and tutored pipes on the side, now heads up a team of two full-time pipes teachers, one full-time drums teacher and three part-time staff. "There are about 100 students in total at various stages of learning pipes and drums," he says. "They each have one individual lesson during the week as well as band rehearsal times. They are divided into three bands depending on their skill level. They practise in the music rooms or on the ovals so there's often the sound of bagpipes wafting through the school grounds. Music is big at Scotch and most boys play an instrument of some sort. There are wind and string ensembles, a brass band and a symphony orchestra."
Charlie also manages to fit bassoon lessons and playing with the school's orchestra into his hectic schedule, which includes two nights a week playing with the Hawthorn City Pipe Band, water polo, hockey and squash "to relax with friends". He has an equally laden academic schedule, with English, economics, chemistry, physics, specialist maths and maths method on his VCE (Victorian Certificate of Education) curriculum and a career in commerce or engineering in his sights.
"I've loved the bagpipes for as long as I can remember," he says. "I was just a toddler when first heard them in a street parade and I told my parents I wanted to learn. I started in my prep year at my primary school, The Scots School in Albury, and the chance to advance my practice was one of the main reasons I moved to Scotch."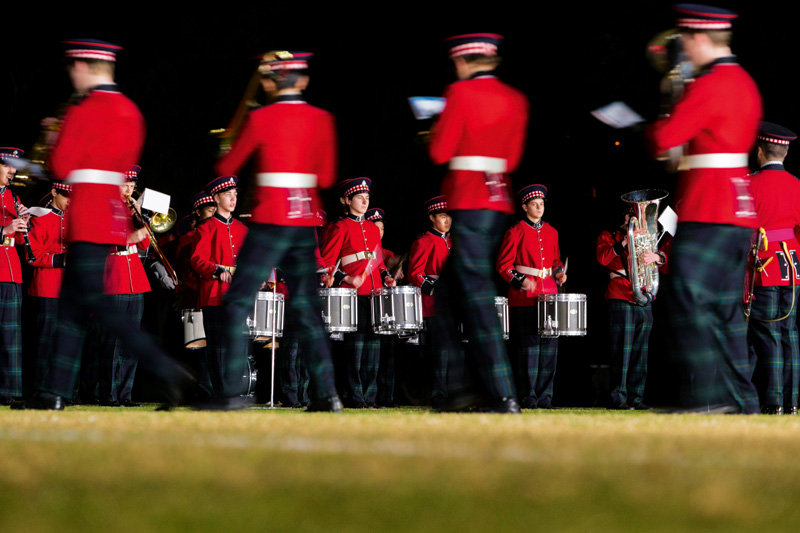 Mark adds that Scotch College's Pipes and Drums bands get to compete in competitions and highland gatherings all over Victoria and at the Australian Championships every two years. "This year they were in Brisbane and we won the section for the highest level for school bands,'' he says. ''Attending and participating in international competitions takes it to the next level as the boys get to see other school bands and what's possible. They also get to see the music played in its context in society and everyone comes home inspired to aim higher."
The school aims to send a contingent to the European Championships every second year as they are conveniently held during the June/July holidays. The World Championships are more difficult to schedule as they occur in term three at the pointy end of the academic year. However, Scotch did attend in 2014 and were rewarded with an equal third in pipes and fifth in drumming.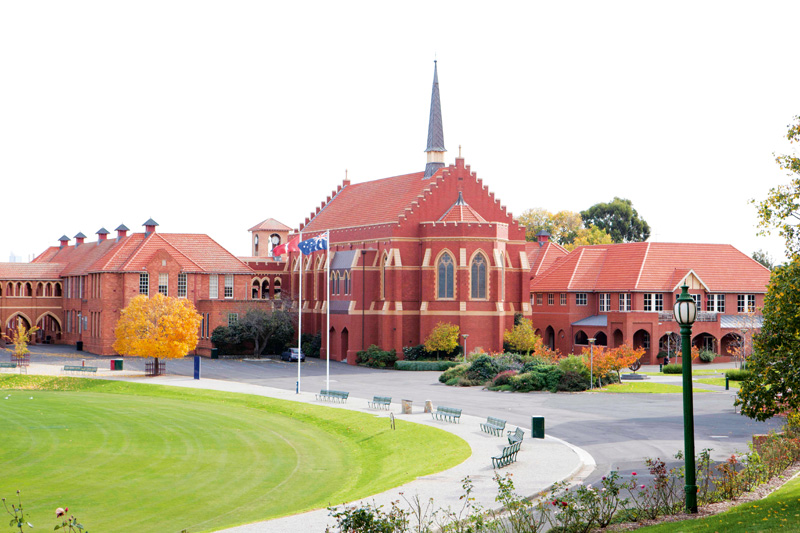 "I'm very grateful for the opportunities I've had since I moved to Melbourne," Charlie adds. "They began when I was one of six Scotch College pipers selected to play You're The Voice with John Farnham and Olivia Newton John in a concert at Rod Laver Arena and there are always opportunities coming up that I wouldn't have had if I'd stayed at home. I also think I'm lucky to be a boarder because you learn to get along with such a diverse bunch of people. We live and work together closely so I've learnt about tolerance and seeing things from others' perspectives. I imagine they are lessons that I'll carry forever. I certainly plan on playing bagpipes long after I finish school, depending on where I go to uni and work, but hopefully with the Hawthorn band."
The complete story was originally published in Australian Country issue 21.6. Click here to subscribe to our magazine
Words Kirsty McKenzie
Photography Lucy Morton