Lady Aurora broadcasts her show to the southern Australian skies.
Photo by Leena Wizz
It's around 9pm and the Australian Country team is driving around Howden, in southern Tasmania, staking out the darkest spot. We're parked at the end of a road, looking for a view of the water when Leena Wizz stops her car to lend a hand. She leads us to her favourite lookout just down the road, a spot we couldn't have found without her. It's here that we finally capture the green and purple glow we've been chasing.
"This is the spot I captured my first aurora, six years ago," Leena explains as she pulls a camera, tripod and torch out of her car. "I checked the gauges and tonight looked good so I've been driving around all night looking for it."
With the right conditions the Aurora Australis can be seen from Antarctica to as far north as Uluru. The natural phenomenon occurs when electrical particles are charged by the sun and sent into the atmosphere on solar winds. Unlike its northern counterpart, the Aurora Borealis, the southern lights can be seen all year round.
Capturing photographs of the aurora is something a group of dedicated and passionate people in Tasmania sacrifice their sleep for. They call themselves aurora chasers. Their mission is all the more challenging because the Dancing Lady, as the aurora is affectionately known, is often invisible to the naked eye and can only be seen "back of camera" thanks to long time exposure.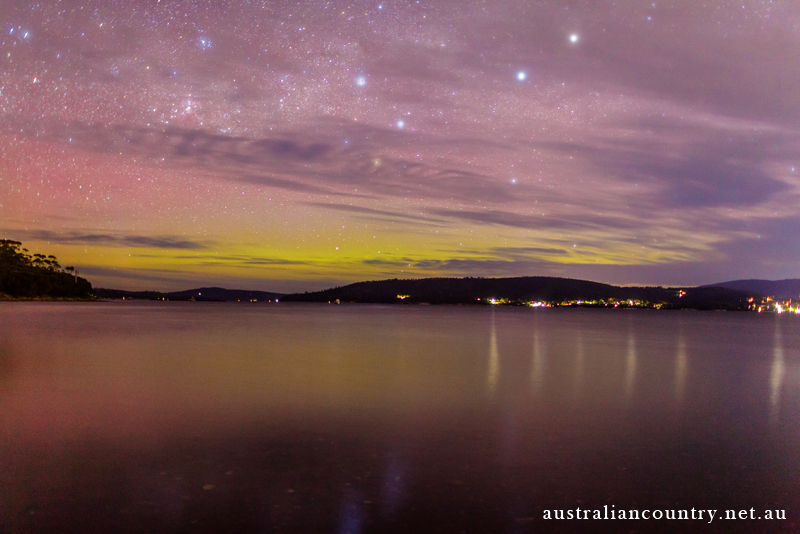 Photo by Ken Brass
Founder of the Aurora Australis Tasmania Facebook page and one of the state's first aurora chasers, Margaret Sonnemann encourages people to step outside at night. She spotted her first aurora 20 years ago while driving to Hobart from Launceston. "When I saw the lights I thought aliens had landed," she recalls. "Of course it was an aurora and I thought 'This is crazy. How can I find out about it?' I checked the phones and there was nothing, nothing at all. No one could tell me when one was happening. It was so frustrating and you'd hear a few days after one happened that it was an amazing show."
Hooked at first sight, Margaret decided it was time everyone could bask in the glory of the green and red glow. "Some time after the dawn of Facebook I got started," she says. "What was needed was some way we could tell people that the show was on. We're actually able to inform science in some ways. We document a phenomenon that they can't even identify. We've given our own names to certain things and we're still waiting for them to say what they are. We recently came across a strange shape that was kind of like pulsating stripes. People call them picket fence or piano keys. But I think they were Thylacine stripes because we're in Tasmania."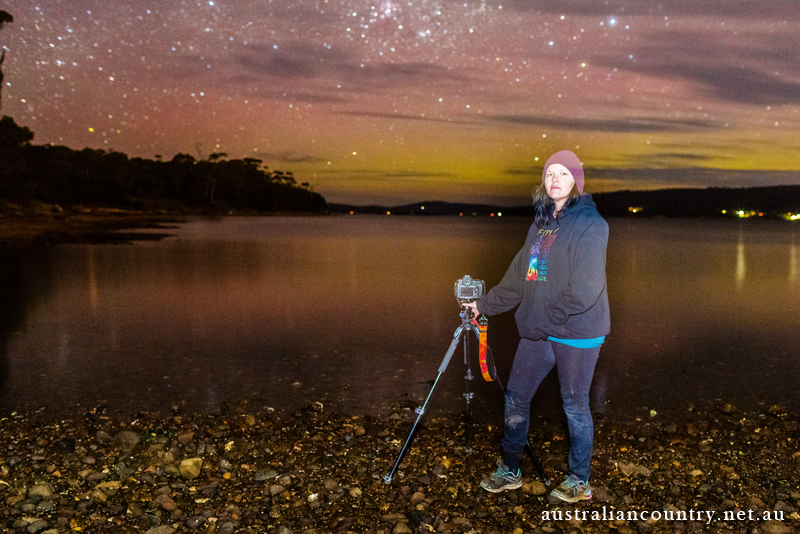 Photo by Ken Brass
Retired school teacher Sophie Fazackerley joined the Facebook page in 2013 after seeing photos of the aurora. "I saw a photo on Facebook about three years ago and thought 'I want to do that'," she says. "My husband likes taking photos of boats and houses. He went out one night and took a photo and saw the colour so I bought a camera and have learnt to take photos myself. When I saw the colours I was hooked. The aurora takes my mind, consumes my mind and mesmerises me."
To encourage the photographic side of the Tasmanian night sky, Margaret began the biennial Aurora Australis and Night Sky Festival. Photographer Loic Le Guilly joined the group in 2012 when there were only 500 followers. Today there are more than 40,000. Loic ran workshops for the festival after becoming immersed in aurora photography.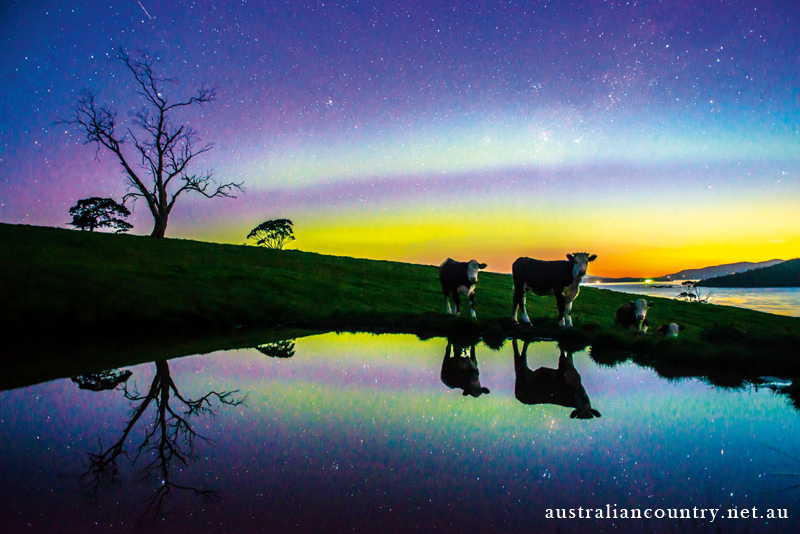 Photo by Leena Wizz
"Tassie is basically the best spot in the southern hemisphere to see auroras because we're closer to the magnetic field in the South Pole," he says. "For some people, just capturing the aurora is a challenge. For a photographer you always want to capture the image
that's the next big thing."
On Bruny Island where the population is roughly 700 and the light pollution is nearly non-existent, Fran Davis refers to herself as the crazy lady who spends her nights hunting auroras. "When my husband retired we moved from Hobart to Bruny Island," she says. "That was 10 years ago. It was after my mother had passed away too. This might sound silly but when my mum was sick I asked her to send me a sign to let me know she was still OK. I heard about the aurora on the mainland so I thought I'd try and see it in Bruny where there's no light pollution. When I saw it, three weeks after my mother passed away, I thought mum's in the right place. She's sent me a sign. When I'm out there I talk to her because it's the closest I can get to her now."
Fran's house in Alonnah faces south making it easy to spot an aurora from home. "On Bruny they call my house the perch because of how it sits," she says. "That makes me the canary. Most of the time you can see the movement of the aurora but you can't always see the colour. I had to buy a new camera when I moved here. I think anyone who lives on Bruny and doesn't own a camera should be shot. When I spot an aurora I update Margaret's Facebook page in case anyone on Bruny wants to see it. It moves up north into Tasmania after I've seen it so it helps them too. I check the aurora alert app which uses GPS to tell me when there might be activity but mainly I rely on my eyes. I think the aurora is something you're either obsessed with or have no idea about. But it was Margaret and her Facebook page that really made it popular."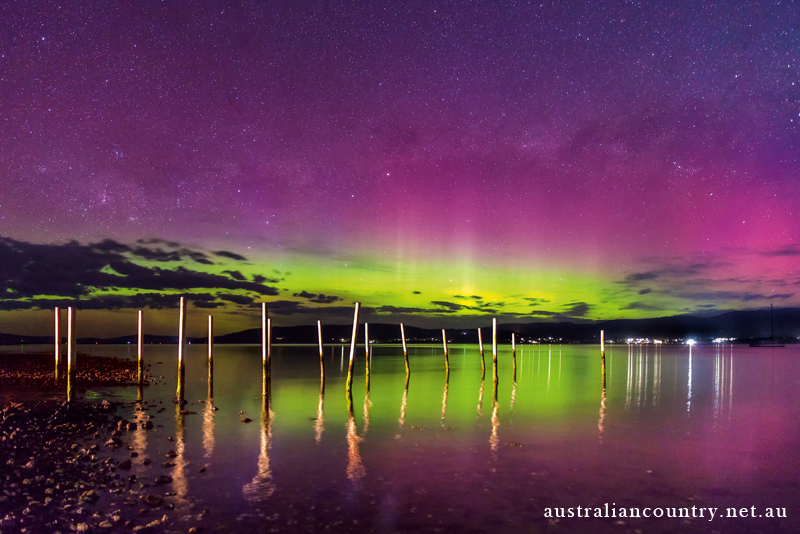 Photo by Sophie Fazackerley
Many websites and apps measure BZ and KP indices, wind speed and density of particles in the wind but the best indication is going outside and checking with your camera. Be warned though, aurora chasing is an addictive pursuit. Once you've seen the lady dance, sleeping becomes an activity for wimps. Join the aurora chasers on Facebook at facebook.com/groups/auroraaustralis.
The complete story was originally published in Australian Country issue 20.3. Click here to subscribe to our magazine.
Click here for more escape stories.
Words Ashley Diterlizzi
Photography Ken Brass, Fran Davis, Sophie Fazackerley & Leena Wizz