High in the Border Ranges north of Broken Hill are 12 massive sandstone sculptures roughly arranged in two columns linking this iconic region with distant Bourke where eye doctor Fred Hollows is buried. One work is dedicated to Hollows. When it was carved in 1993, its creator Lawrence Beck said: "Only Fred and I truly know what the sculpture really is".
In a land laden with contradictions, Broken Hill whose main thoroughfare, Argent Street, runs parallel to the line of the rich copper, lead and zinc lode that made Australia rich, is a standout example. The town with its tough industrial reputation actually has more art galleries than pubs. Like a pariah, it's on Central Australian time, not NSW. Broken Hill jeered and stoned the departing volunteers for World War 1, then welcomed them home as Anzac heroes. Suburbia in the outback, it's been called. But the outback is enigmatic itself. What is this place? Where does it begin or end? Does it even exist? Might the legendary ophthalmologist, whose work in ending avoidable blindness is carried on around the world to this to this day largely through the Fred Hollows Foundation, be able to explain that … as well as the meaning of the sculpture on the hill.
Once, I had asked the provocative Australian historian Manning Clark if there was one outstanding achievement of Europeans in Australia. He replied promptly, as though all Australians should know: "A cold beer west of the Darling". The outback is as confusing, and as perversely profound, as that. The bush is not nearly so meaty. So, camping gear checked, and with a new car just right for the job, we stocked up and set out to stir some red dust, flex some diesel muscle, to try to discover why it's said that once you've crossed the Darling to the land of bloodshot, spilt-ink skies you'll never want to leave.
First stop Orange, the food basket, latte and fine wine centre of the NSW Central West. "Is this outback?" asked a hesitant voice from the campervan parked outside our favourite cafe. "We want to go to the outback," said the couple's daughter in clearer English. The confusion is understandable. Pretty soon we came across signs advertising Outback Motors, Outback Air Conditioning, Outback Awnings, Outback Steakhouse, several Gateways to the Outback, and we'd even heard the Outback Choir.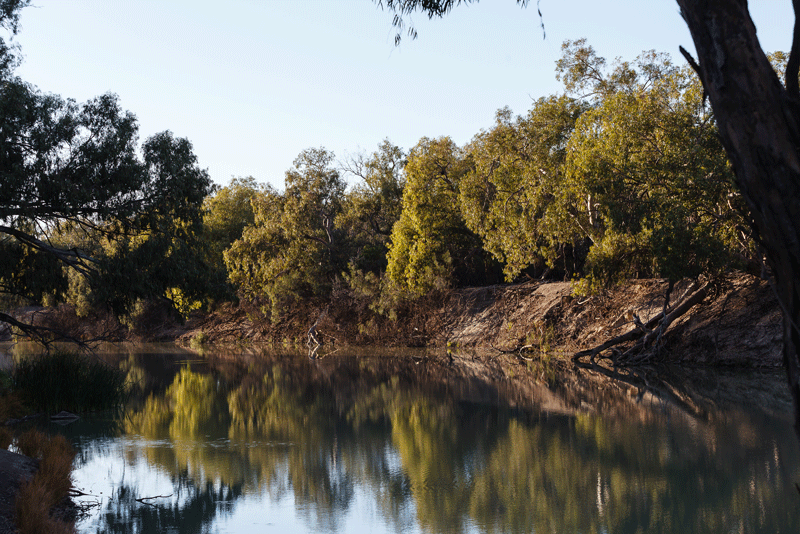 Looking west across the Lachlan from the swinging bridge at Hillston early on our dirt-road quest, I thought: This is just about impossible. There are so many stories out there, stories back to the Dreamtime, too many, too big for any canvas, even for Broken Hill's 100-metre tourist attraction, The Big Picture.
At nearby Willandra National Park, part of the Willandra Lakes Region World Heritage Area, visitors can camp, or bunk down if they prefer, in the shearers' quarters of a property once world-famous for its wool. But the jewel in the area's crown undoubtedly is Mungo with its weathered Walls of China stretching into a hazy infinity; its Mungo Man and Mungo Woman; human occupation traced back 50,000 years; and evidence of the oldest recorded cremation anywhere in the world. We pitched the tent watched by curious kangaroos. We could have stayed in shearers' quarters here, too. Next day we drove the 70-kilometre discovery circuit, the top-of-the range Isuzu MU-X striding effortlessly along the rocky, unsealed road.
A couple of days later at the old river port of Pooncarie we first saw the Darling, and at Menindee we crossed the river and made a celebration dinner party at our camp on its western bank, puzzled pelicans looking on. In its heyday as many as 400 paddle-wheelers carried wool down the Darling, its ports as busy as many a coastal settlement. Even today most of the food Australians eat comes from the Murray-Darling River system.
The forecast was for a dreaded heatwave over the area for the next three days. Next morning, however, heavily sun-screened and protectively dressed, black clouds threatened ahead. We heard the thunder before the lightning struck. Soon the rain pummelled us. Headlights blazing at high noon, windscreen wipers whirred into high-speed Outback action. It was supposed to be 45 degrees. Instead it was 20. Kangaroos shivered suicidally on the warm road.
We sheltered from the storm in Broken Hill, dropping in to see Kevin Connor's 60 warts-and-all works of ink on paper called A Superficial View of Broken Hill at the Regional Art Gallery. Things have changed in Broken Hill since the days of bitter industrial battles, two-up, grog shanties and larrikins such as Snakejuice. The recipe for the drink from which Charles Carl took his name was revealed by the Barrier Miner of 1892: Decant half a keg of rum, brandy or whisky and replace with water … Add 2 sticks of tobacco, 1 bottle of Worcestershire sauce and 1 bottle of Pery Davis Pain Killer to give colour and kick.

Australian Country's travels were courtesy of Isuzu MU-X. Read more about on-the-road adventures in Broken Hill and beyond in the March/April issue, available for order and online now!
Words & Photography Ken Brass