The far south coast of NSW entices visitors with its ethereal charm, stunning local produce and outdoor adventures.
The story begins, as it often does, at the pub. Not a drop had passed her lips, but Susan Gray was instantly intoxicated by The Dromedary Hotel in the tiny timber town of Central Tilba, on the far south coast of NSW. When Captain Cook sailed past in 1770, he named it Mount Dromedary, likening the landform to a camel hump, but the local Yuin Aboriginal people call it Gulaga. Years of drought had leached away vitality in the public house of The Dromedary Hotel that had connected history and community with heart for more than 125 years. The paint was peeling.
There was a For Sale sign out front. "I have no idea why Jeremy and I bought it," Susan confesses. "We were insane. We were a couple of Sydney-based airport planners with no ambition to own a pub and I hadn't even pulled a beer behind a bar at that point.
Three years later, I still wonder: 'What have we done?'" Jeremy Corfield plunks a schooner of south-coast Drom Pale Ale on the table in the beer garden. "I was thinking the same thing on our first day," he continues. "I was standing on the street looking up at the crooked beams on the verandah when this kid came up. 'Excuse me,' he said, 'are you Jeremy?' 'Yes mate,' I answered, 'what can I do for you?' 'Oh,' he replied, 'I just want to say thanks for saving our town.'"
The booze started flowing at the relaunch party in June 2018, locals jammed shoulder to shoulder at the front bar, strangers to the accidental publicans then. Today, everyone has a name, a tale, some even recognised for traits echoed in photographs of pioneers that hang in the hallway. Keeping the pub open has resuscitated Central Tilba. The tightly clustered one-street town with a few dozen buildings — classified by the National Trust as a conservation area in 1974 — was almost forgotten when the bypass to Bega was built. Then the hilltop ocean views with rich dark soil caught the eye of producers for the popular lifestyle television series River Cottage Australia. Now Tilba thrives again as travellers rediscover the roadmap in the wake of the Black Summer bushfires of 2020 and Covid-19.
Even the hardiest farmer can't deny that there's something compelling about this place. It's a land of milk and honey, impossible green lushness and mighty granite tors. Folk live a peaceful, ecologically sustainable way of life — pumpkins left on porches with an honour box for payment — other-worldly stories drifting over country like spinifex across dunes. Tilba is a time warp. Shops sell hippie dresses with the sort of patterns that you see when you rub your eyes too hard, soaps and candles, egg cups with legs. An unmissable pie shop (Tilba Bakery) shows how delicious real meat can taste with flaky pastry, while Tilba Real Dairy does much the same with creamy Jersey milk and cheese.
The town sits in the shadow of an extinct volcano that once stretched from Bermagui in the south to Tuross Heads in the north. Gulaga is one of the most important sacred sites on the South Coast. Mother Mountain. Protector. An omnipresent spirit that, locals say, calls you back if you're meant to be here.
Jody Vassallo came first to Tilba to work on River Cottage Australia. She had already written a stack of Marie Claire cookbooks and won a slew of awards, but moved back as a cookbook writer, yoga teacher and Ayurvedic health coach. People made her feel welcome, bought flowers, delivered jam to the front door. "I didn't know a soul and they just opened their arms," she recalls.
Jody bought a farm in the midst of severe drought and felt compelled to do something good. So, she took decades of publishing experience in the food industry with famous chefs and stylists, incorporated a few not-so-famous recipes, and showcased regional Australia with the stories of 20 farming families. Proceeds from the cookbook Farmer: Recipes and Stories from the Land — so far amounting to $350,000 — have gone to the Country Women's Association Australia (CWAA) for farmer assistance.
At Jody's stunning farm studio, a long window hovers above the bedhead for an eyeball-to-eyeball encounter with a mountain that appears to be standing, right there, in the room. "Gulaga demands your attention," she offers. "There is no way anyone can explain how we did not lose our town in that Gosper's Mountain fire. The whole back of the mountain was burning and every prediction for weeks stated that the village was going to go up in flames. It didn't happen. Ten years ago, Gulaga did the same thing, and the villagers say it was that mountain protecting the town from the flames."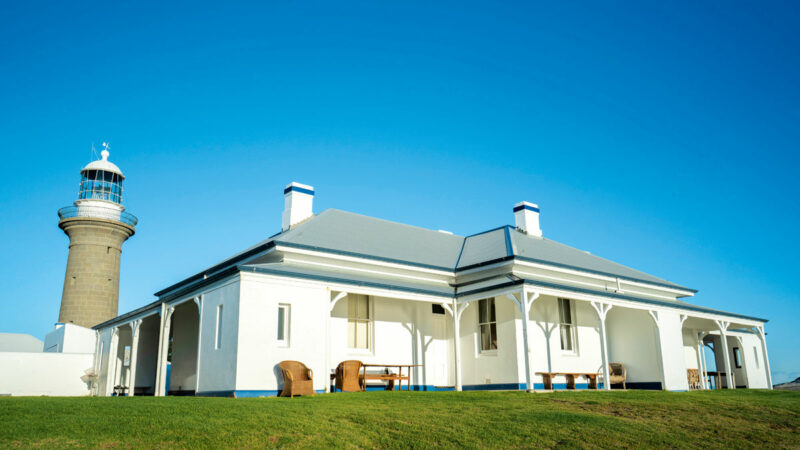 Cheryl Davison, a Yuin woman and highly respected artist, is custodian of Gulaga's creation story. Many of her insights come from a childhood spent sitting next to her grandfather in his old wooden boat on Wallaga Lake. One of her works, displayed at Mungala Bugaali gallery in the main street of Central Tilba, reveals the outline of a reclining woman with head to the south, feet to the north. She's looking towards her eldest son, Baranguba, who turned into an island when he snuck away while collecting bush tucker.
The younger boy, Najanuga, stayed at her feet. In white man's language, Baranguba is Montague Island, lying 10 kilometres off Narooma. It has the hunched grey look of a place that's keeping a weather eye. You can stay overnight in the keeper's cottage, but the island really belongs to more than 90 bird species and a colony of mighty fur seals. Getting to Montague Island relies upon the cooperation of Mother Nature and a ship's captain. The sea is a millpond on the day that Benn Bolton is at the helm expressing childlike delight at flawless conditions. Holidaymakers on lower decks are squeezing into wetsuits, looking exactly like tasty seal nuggets, but there's not been a shark incident in these waters for years.
"If they're around, they'll just be cruising past," he says, and there are plenty more fish in the sea in this protected maritime reserve. Benn is transfixed on purpose, stealthily prowling along the shore to secure a diving spot close to a pod of basking seals, folded over boulders like the ruins of a citadel. Those who plunge into depths must breathe deeply. It takes energy and imagination to dive in synchronicity with seals. Playful is the way to get personal, divers are told, but after 10 minutes of spectacular underwater display somersaulting and swivelling sans snorkel, the pod loses interest and twists away along the cliffline.
It's surprisingly easy to empathise with a seal when simply drifting along. Each individual is a coherent narrative, different and complete, absorbed in its own enterprise. The black-furred teenager teases with flippers as a spinning torpedo; a sleepy elder with eyes tightly shut drifts closer in its watery dream, closer and closer, until startled by an outstretched hand. It lifts long lashes over bulbous and alarmed eyes then scoots off in a fizz of small bubbles. Pop.
Water sports must eventually end for, even in a wetsuit, the spine tingles towards freezing point. It's not such a bad choice. The turquoise swirl of estuaries and bays that make up picturesque Narooma promise exhilaration along empty strips of clean white sand where ocean lunges onto shore. Up the estuary, people are queuing for a platter of oysters straight off a tidal salt rack, served at a table under an umbrella.
At The Oyster Farmers Daughter, Natasha Coxon is rushed off her feet in her boutique food trailer on the edge of Wagonga Inlet. Her father, Brian, has been farming Sydney Rock oysters for more than 40 years. Natasha is the fourth generation to ply the trade and she's doing it her way with spectacular success.
"We didn't know what we were jumping into," she laughs. "Everything was on a really small scale with a tight budget but, straight away, every day, the car park has been full with people." They are coming for lobster, caught locally and cooked fresh every morning, or oysters with Champagne.
The inlet is peaceful now but was once a busy port supplying the Dromedary and Nerringundah goldfields (in the 1860s). You can float into the past on the decks of the elegant Wagonga Princess, a whisper-quiet electric-powered vessel that's more than 100 years old, into an ambrosia sunset that's fading foothills and bays into black. Vestiges of a colourful past still bob up and down along the inlet waterfront at Fosters Bay where a line of heritage boatsheds have been delightfully restored. These bright jewel boxes dating from the 1930s are mainly the domain of the wooden boat brigade but Southbound Escapes have turned one into a unique picnic spot.
Champagne on a private jetty works in perfect harmony with wood on water after an e-bike tour, perhaps wheeling along the Mill Bay Boardwalk, where waters are teeming with stingrays and seals. Instant gratification feels illicit on somebody else's pontoon but good things come in small packages and there are plenty of pathways for activity later. One of them leads along a bitumen road to the fishing town of Bermagui where water and sky are vast and distractingly nuanced by light. The summer season has passed away like a faded beach tan and cloudless nights mean a return to scarves in the early evening at the Four Winds Festival (every April) at Barragga Bay.
The Festival began modestly 25 years ago when founder, Neilma Gantner, the daughter of Melbourne retailer and philanthropist Sidney Myer, came yearning the intersection of wild ocean and sheltered land. Neilma's vision to create a high-quality arts experience — spiritual food to match peaceful isolation — was born in conversation with close friends. Four Winds now attracts thousands of festival goers who plop themselves on picnic blankets for an intimate communal experience of pleasure and education, connection and healing. Outstanding artists are invited to perform a mixed program in a natural amphitheatre that ripples with songbirds and sea breezes through spotted gums. Sometimes, you can hear the ocean.
This year's program was devised by Lindy Hume, an internationally renowned opera and festival director who lives in nearby Tathra. As a former director of many Sydney and Perth Festivals, she obligingly opened her address book to invite Sydney Dance Company, Lior and William Zappa with his version of Homer's epic tale, The Iliad. The Aria Award-winning female county trio The New Graces joined the local indigenous people in song, preserving a language that is more than 60,000 years old.
Reconnection across time and culture is a subject ripe for discussion during the festival lunch break when a quick burst along the Tathra Road leads to a panoramic rooftop restaurant at Murrah. The menu at Mimosa restaurant, in a family-owned vineyard, has been polished to perfection by head chef Glen Simpson with a sous-chef who honed his craft in some of Berlin's Michelin-star restaurants. A conglomeration of sensations ends with panna cotta scattered with candied olives but begins with an exquisitely seared fresh kingfish swirling in a saffron bath that looks just like yesterday's sunset.
Or was it all just a dream? The drive homewards leads back into "bridge county", where old wooden structures stand like guards of honour to conduct safe passage across sea and sandbar into a maze of lakes or lagoons. There is a splendid example along the crystalline water of Cuttagee Beach.
At the time of writing, Bega Valley Shire Council has resolved to replace the quirky single-lane Cuttagee Bridge with a two-lane concrete alternative, but the community opposition has been swift, with thousands of people signing a petition against the decision. If you look back, having bumped across gnarly timbers and over swirling water that's buzzing with life, there's a sign. It's tacked beside crooked railings. The paint is peeling. Save Me, it says.
Photography Anabel dean & Eurobodalla tourism