The Hay family has called Olive Grove home for more than 150 years. For the present custodians, it's a haven for transitioning from working life to a well-earned retirement. 
By Kirsty McKenzie, photography Ross Williams, styling Bronte Camilleri
It's almost impossible to imagine today, but when Alex and Helen Hay moved to Olive Grove in 2008, the garden consisted of just two trees, a large bay and a giant ash. These days, visitors to the property near Bordertown in South Australia's south-east arrive to a verdant two-acre expanse with sweeping lawns, loads of deciduous trees providing shade in summer and striking colour in autumn, a huge kitchen garden, an apple and pear orchard, bordered, of course by an olive grove where rows of gnarly olive trees have lined the landscape for 150 years. Olive Grove and neighbouring Olive Bank have been in Alex's family since the 1870s. Helen and Alex both grew up locally although they didn't meet until Alex came home from boarding school in Adelaide. After they married, they moved to Olive Bank and leased Olive Grove from Alex's Uncle Jack, who eventually left them the property. Coincidentally, Alex's father, William, had inherited Olive Bank from John Hay, who was Uncle Jack's uncle. For almost 30 years, the Hays worked alongside each other on the farm, running sheep for wool and prime lambs, growing mixed crops including canola, wheat, barley, lentils and beans and raising their three daughters.
The move to Olive Grove marked the start of a downscale for Alex and Helen, as they scaled back their farming activities and leased most of their land. Alex, however, keeps an interest in farming by running lambs, which he fattens on the high-protein bean residue left from their lessee's crops. They also embarked on a major restoration of the homestead, which had been built in 1902 using materials from another homestead at Wirrega about 30 kilometres away.
"The building had been added to over the years, so it's difficult to date," Helen explains. "It was solid, but in need of repair. We reroofed it, completely renewed the verandahs and built a connecting family room between the main building and what had been the servants' quarters. We were fortunate that the best features of the homestead, the magnificent skirtings, cornices and ceiling roses had not been touched."
The builders from an Adelaide company called Federation Homes, lived on-site in the shearing shed for the duration of the works, which took seven months to complete. "There were between seven and 13 people on-site throughout the process," Helen says. "I thought I'd finished with cooking for shearers when we moved here, but that was the longest shearing I ever did." Shortly after Alex and Helen moved in, one of their daughters announced her intention to have her wedding in the garden, which at that stage was pretty much non-existent. "We had from March until October to establish at least some green grass to suggest a garden," Helen recalls. "I've been working on it ever since. I must admit I have a fondness for English trees and I have trouble buying evergreens. The trees look spectacular in autumn even though there are leaves everywhere. In spring, one of my favourite features is a wisteria on the eastern verandah. We're fortunate to have a huge dam which is fed by a bore, so water is not a problem."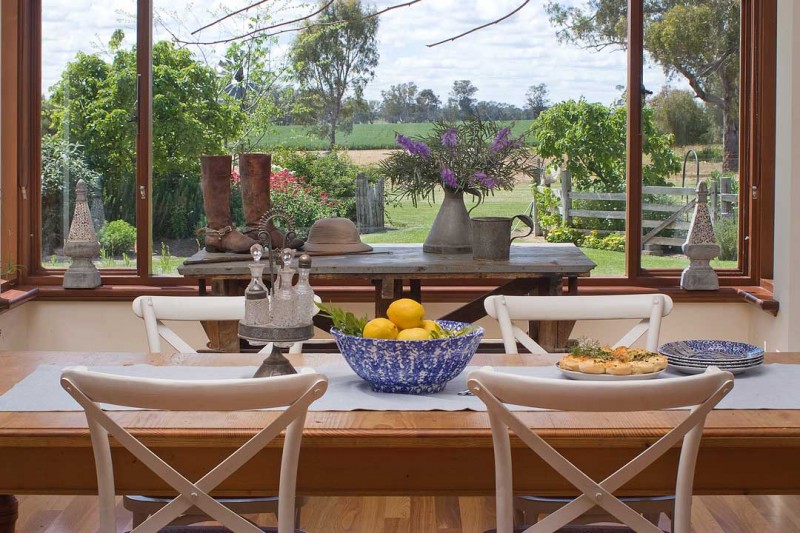 The olive trees still bear, but not very prolifically and occasionally pickers come up from Adelaide to help themselves to the fruit. "When we first took over the farm we looked at reviving the grove," Helen says. "But the old trees weren't really viable and we decided against planting new olives because they ripen in May, which was our busy time for seeding."
Helen adds that the garden is her baby and that Alex's main contribution is enjoying sitting in it. "He's found plenty to fill his time including joining a bushwalking group from Adelaide," she says. "The move provided a great transition from full-time farming for both of us. So much is written about finances in retirement, but not enough attention is given to the emotional side of stepping away from your life's work. We're grateful that we've been able to manage that by coming here."
The property also provided a great sanctuary during the COVID-19 lock-downs. "We rarely go to town," she says. "We go to Adelaide to visit family and friends, but for most of the time I feel like I live in heaven, so there's not much reason to leave." AC.