A picturesque setting and smorgasbord of delightful local food and drink offerings makes New South Wales' Tweed Valley tourism spot a veritable treat for the senses.
It's just past dawn in peaceful art-deco Murwillumbah where an early-morning queue has formed outside a tiny hole-in-the-wall bakery at the trendy end of town. There are plenty of skilled technicians in the pastry world but few of them are magicians like Ben Leonardi.
His glass display cases are a creative playground of mind-blowingly delicious pastries, some of which, paradoxically, emerged from the catastrophe of Covid when the Frenchman decided to teach himself new skills as a chef and pâtissier in lockdown. Ben's crisp, buttery perfections come with a caution. Beware the man who creates such unforgettable emotions in dough that you will spend the rest of your life trying to rediscover the sensation somewhere else. His Jesuit almond croissants are the springboard that catapult us forward on a road trip that's a food-lover's odyssey in a forgotten corner of the country.
The Northern Rivers region of New South Wales is a culinary destination made lush with rainfall, but it was devastated by the floods of 2022 that, literally, blew records out of the water. To outsiders like us, the worst flood in history is incongruously hard to imagine since the roller shutter doors have jangled up again on many shopfronts. In Murwillumbah's industrial-chic M-Arts Precinct — a creative meeting place for artisans and art lovers — there's an alarming stripe of fluorescent tape marking the waist-high water line on the window of a design studio. It's a reminder of remarkable resilience across the rich red loamy soils of the Tweed Valley, where communities are now back to business.
Locals who eat well like to know the source of their food, and they're flocking to Kat Harvey Cheese. It's a neighbourhood shop with destination qualities, so cheesemonger Kat is bouncing around behind the counter, offering dollops of creamy Brie to eager customers.
"I'm living the dream as the cheese maker who was a Sydney chef for 25 years," she says. "I asked myself: 'What's my one true love when I get out of the game?' First I went to Melbourne to learn how to make cheese at Holy Goat, then I went to France to make raw-milk Camembert, then I came back here and asked Nimbin Valley Dairy to take me on as an apprentice."
The art and science of Kat's cheese-making journey is laid bare in the finely curated selection of artisan cheeses from small-batch producers all over the world and the "special-request" soft cheese range that she makes for local award-winning restaurant Tweed River House.
"Try this one," she says, thrusting a cheese called Daisy under the nose. "It's a bit like my personality — it's light, bright and breezy." Kat can talk rivetingly about rain and grass and pastures and how it affects cheese from cows, sheep and goats. So here, obviously, is another cautionary tale: a road trip as a hunter-gatherer in this hinterland will take as long as it takes.
Time is academic in the shadow of Wollumbin (also known as Mt Warning), a looming and omnipotent presence, a remnant of the Southern Hemisphere's largest extinct shield volcano. It's the sacred site for the Bundjalung people and part of the extensive World Heritage-listed Gondwana Rainforests of Australia.
The region nourished by the Tweed River is a resource-rich food bowl renowned for quality small-batch growers and sustainability-conscious chefs who co-exist within a tight community of surfers and sea-changers. And there's no more vigorous example of the bond that exists between fields and food than Woodland Valley Farm, just south of Murwillumbah. Fabian Fabbro and Jodie Viccars came to the valley for a change of pace from city life in 2016 and were warned that the old dairy was on marginal land. They bought it anyway. Then they brought in the regeneration team to help restore the land — 120 Hy-Line Brown hens and 30 head of Speckle Park cattle for rotational time.
The property is now an oasis of biological diversity, there's even a "nature tax" in the wedge-tailed eagles that pick off a handful of chickens each week, but it's worth it. Sure, the eggs are a sell-out sensation, but ethical growing and sustainable farming have created an unforeseen culinary marvel that goes under the label of Pasta'bah.
Fabian's Italian heritage has inspired a series of hand-made sauces, pastas and duck-egg vanilla custards that are sold in squidgy delicious pockets at Pasta'bah's new shop in Murwillumbah (and through independent grocers across the Northern Rivers and south-east Queensland). The company employs two chefs, five pasta makers and a line-up of locals on a part-time basis. There is such a good-vibe "food, glorious food" kind-of feeling to this farmer that we are forced to fill our Esky, just in case, before driving northwards to Carool.
Bitumen folds through hills as fresh as salad greens towards an understated little restaurant that's just harvested the NSW Tourism Gold Award. Potager (French for kitchen garden) feels like home. In a way, it is. "One couple have been here 170 times," affirms owner Peter Burr, shielded from brilliant sun by a flourishing olive tree. "More than 100 guests have been here 40 times, but who's counting? We know their names and we know what they drink."
Even the ceramicist who made the plates is so well supported by the community that she's all but given up her day job as a schoolteacher. "If you turn the plates over and you're from Sydney, you'd say they're made by Chez," Peter chortles. "But, if you're from here, it's Chezza from Burringbar."
All the garden creations inspire wonder in the kitchens, but regulars come for the stew — Peruvian sudado de pescado as it's known — using the freshest fish caught by local fishermen on the edge of the continental shelf. "There'd be a mutiny if that came off the menu," Peter confides.
If the patrons weren't so relaxed on the sun-drenched terrace, with its iridescent view of Kirra and Bilinga, they'd be causing a racket over Jonah's wild Fair Game venison that's improving outcomes for farmers and the environment by culling local feral deer. They'd be jotting down the details of Oli and Tina's mushrooms from nearby Urliup Farm or they'd be calling Michael to order more of the sustainably farmed Australian Bay lobsters (otherwise known as Moreton Bay bug). Local, ethically sourced ingredients are part of the magic of Potager and they somehow leave you feeling better about the world.
Peter bought the 10-acre (four-hectare) farm with his late partner, Gareth Leslie, a chef at Gwinganna Lifestyle Retreat, and opened Potager seven years ago. It was one of the first destination restaurants in the area — travellers planned trips around table availability — and it still feels as if it's 1000 miles away from everything when, really, it's only 20 minutes' drive from Gold Coast Airport. "You're spoiled for choice in the Northern Rivers now," Peter says, before being drowned out by a chorus of kookaburras and cockatoos.
We're off again and heading along rows of cane cut into hillsides thrumming with life. Which way? Beaches, headlands, rivers or forests? Cabarita and Kingscliff are arguably the most famous stretches of sand on this 37-kilometre coastline but we're committed to the hinterland. It's late afternoon when we arrive at Mavis's Kitchen, near Uki, but there's enough light to see delicious things emerging from cracks in the garden of an old Queenslander at the foot of Wollumbin. Green things are creeping through gaps in fences along the shattered banks of the Tweed River, where waters receded after the devastating floods of March 2022. Horticulturalist Jacquie Hopkinson is crouching beside a stone wall, pulling away stray weeds, disappearing to find something that tastes like passionfruit or mint. "This," she says, "you can use in a salad as a garnish or drop in a drink." We pop a small, stemmed miracle into mouths, chew and swallow.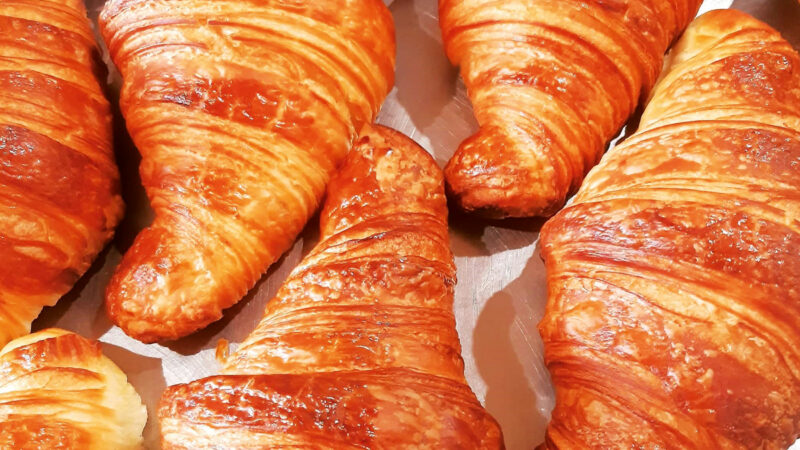 Edible flowers, quite a few in fact, adorn our plates in the dining room later. They're a celebration of life but the real showstopper on this starry night is the dessert inspired by the callistemon bushes outside our cabin. It's a posh splice: a bottlebrush granita of vivid pink icicles scrunched over creamy yellow panna cotta. Floods be damned, fires be gone, a good meal is a necessity in these parts.
It's early morning. We need coffee. Along a narrow winding road to the small bohemian village of Uki, there's another line-up, this time it's for the quirky roasting sensation of Bastion Lane Espresso. The postmaster and "roastmaster", Gary Wall, expanded the Heritage-listed 1909 post office to include a roaster and cafe (thus making sure that the mail will always get through). "I started not knowing what I was doing," Gary confesses. "Richard Branson said to be naïve is a wonderful thing because
you do everything differently."
Gary has never stopped learning. He got his MBA, was sick of the corporate life, saw a gap in the market, so decided to restore the old building. "The end result is what's so rewarding," he says, "being dedicated to local employment and building a better community." The Espresso Bar is percolating with chat, the coffee is richly smooth, and we're buzzing with warm feelings as we consider what's next. We could book in to Brooklyn Tasting Room in Burringbar where all the wines are low- or no-intervention and organic but we decide, instead, upon a tasting tour at Husk Distillers.
This is the home of the famous colour-changing blue Ink Gin. Run by a farming family on a sugarcane plantation at sleepy Tumbulgum, Husk has acres of grassy lawns where we can lunch or lounge under canvas umbrellas, musing on life until dinner. Did someone say dinner? What about Bistro Livi? It's just been voted Australia's best new regional restaurant in Good Food Guide Awards. It's then that we realise. This could go on forever. There's only one way to escape foodie fever in the Tweed River hinterland. Pack up all the goodness and head for home.
Photography by Destination NSW and Anabel Dean