When Canberra-based chef Janet Jeffs invites friends and neighbours over for lunch at her Braidwood farm, it's a true paddock-to-plate affair. The heirloom tomatoes, salad leaves and herbs came from the vegie patch, the Dexter beef from the front paddock, the apples from the heirloom orchard on the farm. And if she and her partner, artist Leeanne Crisp, haven't personally raised, dug or picked the ingredients themselves, they've sourced them locally. The wines come from nearby Half Moon winery, the Nicola potatoes from Tobias and Beatrice Koenig's biodynamic farm at Michelago, the bread from Braidwood's Dojo bakery and Guys Cross olive oil from Carwoola and the craft cider and rhubarb ginger beer are courtesy of Sully from the Old Cheese Factory at Reidsdale. Most of the produce is organic, all of it is packed with flavour and as fresh as it can possibly be. Little wonder that her recent lunch in the apple orchard was a sell-out event with more than 80 visitors joining a long table under the arches of laden trees planted at the turn of the 20th century and still delivering basket loads of Granny Smiths, Five Crowns, Rome Beauties and Jonathans.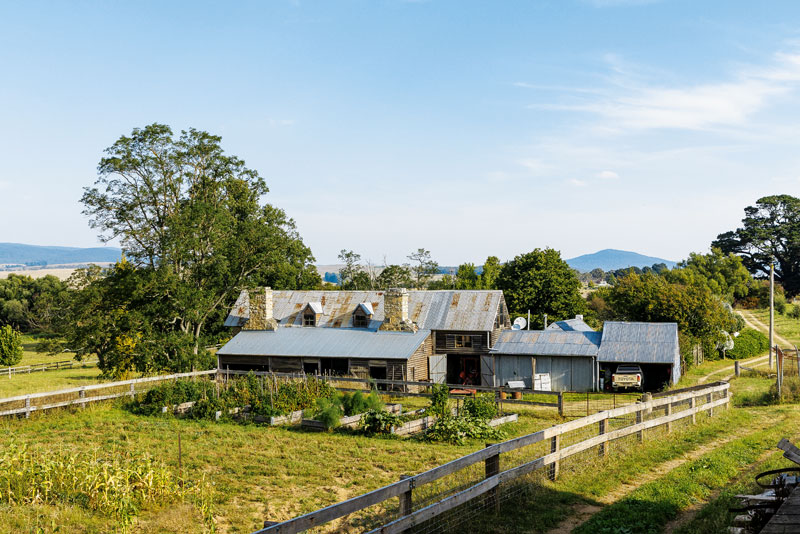 A quick glance at Janet's CV explains why sustainability is her second nature. The Canberra-based chef completed her apprenticeship under the tutelage of Adelaide's legendary Cheong Liew, who in the 1970s and '80s revolutionised Australian fine dining by giving it an Asian accent, introducing European-schooled diners to the concept of nose-to-tail eating long before the phrase entered the vernacular. From there she went on to push the seasonal, local barrow by working for the Barossa Valley's chief cook and advocate, Maggie Beer. Janet then opened her first restaurant, Kilikanoon, in the Clare Valley in 1985 and quickly established it as a worth-the-detour destination in South Australia's atlas of fine food.
"When local growers learned we were interested in promoting regional produce they started delivering stuff to the restaurant door," she explains. "It wasn't too great a leap to realise how important a kitchen garden is to developing a truly local cuisine and I have been working on it ever since."
Janet moved to Canberra in 1995 establishing first Juniperberry, a fine diner. She then branched out in 2000 with Ginger Catering and the Ginger Room at Old Parliament house. More recently Ginger Catering moved its HQ to the Canberra Arboretum, where Janet heads the stoves at Sprout café and the Conservatory restaurant.
"When I first came to Canberra I was introduced to Claire and Sam Johnson of Boxgum Grazing at Young," she recalls. "They now grow the most wonderful pork and beef, but back then they were farming organic chickens at Wombat. Tasting their chicken was a revelation. I had no idea that chicken could taste that good. I already knew that fresh and local was the way to go, but suddenly my whole attitude to farming shifted to embrace the clean and chemical-free methods of organic and biodynamic farms."
It all slotted into place in 2007 when Janet bought Ballalaba farm not far from the headwaters of the Shoalhaven River in the NSW south-western slopes. She discovered the historic property had been owned in the 1950s by the Mackay family, who were early adopters of Rudolph Steiner's principles of biodynamics. Their friend, Brian Keats, was also resident on the farm while he compiled the all-important astro calendar planting guide. Janet continues the farm's tradition by breeding Dexter cattle and Wessex Saddleback pigs organically and using biodynamic preparations in the orchard and two vegetable gardens.
Find out more about Janet Jeffs' lunch in the orchard in the June/July 2015 issue of Australian Country magazine, available for order on sale online now!
Words Kirsty McKenzie
Photography Ken Brass